1-800-ADOPTION
Thank you for viewing our profile
If you would like to learn more about us, please call 1-800-ADOPTION (2367846), fill out the form at the bottom of our on-line profile page, or email us at bp_information@americanadoptions.com.
To revisit our on-line profile page and view our profile video at American Adoptions, simply use your mobile phone to scan the QR code on the right. We are looking forward to hearing from you!
Kris & Greg
We know that there is a baby out there waiting to be born to complete our family, and every day we hope that their mother will find us soon. Maybe that mother is you. We have a wonderful life together and we can't wait to welcome home a sibling for our son. We hope that this will give you an idea of who we are, what fatherhood means to us, and why we would be a good match for your child.
About Us
Job
Senior Manager Marketing Events
CEO
Education
Bachelor's Degree in Hospitality Management
Bachelor's Degree in Music
Relationship
Legally Married
Our Most Memorable Moment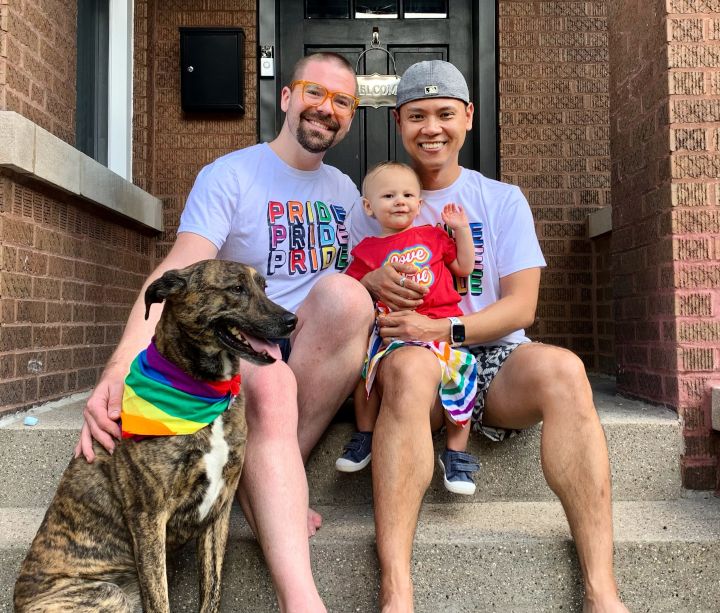 Our path to parenthood in March of 2020 was an incredible journey in every sense of the word. As the world reacted to the then newly named COVID-19 virus, we found ourselves packing up the car and traveling across state lines to ensure that we were in the same state where our birth mother was located. The days leading up to our birth mother's delivery were filled with so many unknowns. Would we be allowed inside the hospital? Would the hospital be able to accommodate the delivery? What would happen if someone was exposed to the virus? Would we even be able to proceed with the adoption?
We remember being in constant communication with our birth mother, our counselor, and each other to ensure we were doing everything we could to be a support system. We remember the bravery of our birth mother as she navigated not only the scares of the virus but also the incredibly difficult choice that would allow us to become parents.
Holding Campbell, our son, seeing his eyes look at the world for the first time, we knew that everything that happened up to that moment happened for a reason. That everyone, including our birth mother, was in the right place, at the right time, and this was the way the story was supposed to unfold. We think back on that day often as we look through photos of our time in the hospital and with our birth mother, and are so grateful to be Campbell's fathers.
What Makes Us Unique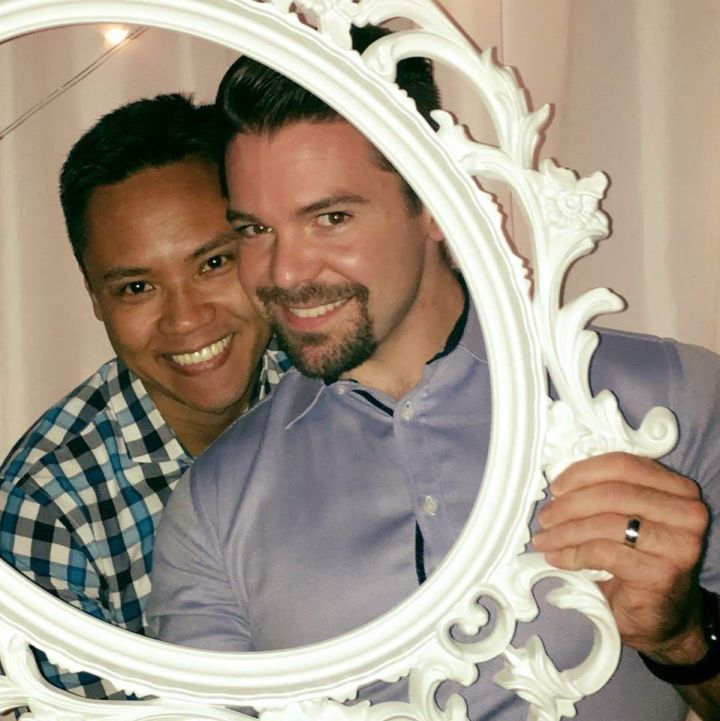 Greg has always been drawn to the arts, and considers himself an entrepreneur. Growing up in Rockford, Illinois and attending a small high school, he was allowed to dabble in a bit of everything from sports to choir, and musicals to cross-country running. He loves giving himself a challenge and persevering through the growing pains to see things through to the finish line. His determination has led him to start his own business where he helps small businesses and nonprofit organizations to grow.
Kris was born in the Philippines and came to the states by way of New Zealand at the age of 10. He and his younger brother, Jerico, grew up with the idea of the American Dream. Being able to say that his family persevered beyond poverty, allowing him to become a college graduate and self-sufficient adult, is one of his biggest life accomplishments. Kris is skilled at putting chaos into order and uses these skills to plan business development events at a global law firm and is a resource to friends and family.
What It Means to Be Parents
Being a parent is one of the most rewarding and daunting responsibilities we have ever had. We can remember in the first few months with Campbell trying to find peace with not having the answer to everything. We now realize that not having the answers is a part of being a parent and that openly communicating and making decisions together, always in the best interest of our child, are the most important things.
As planners, we can often be found turning a decision into a dialogue about what will happen when our kids are in school or in college. While we both entertain these thoughts and feel like it is good to be prepared, we both remain present in the moment as much as possible so that the little milestones don't pass us by.
The global pandemic has provided us an amazing opportunity to reset our standard for work. We both have the ability to work from home which allows us to be connected as parents far more than we would have ever imagined. For us, the satisfaction we get from being present to celebrate each small achievement and being there to notice the small changes is what parenting is all about.
Photos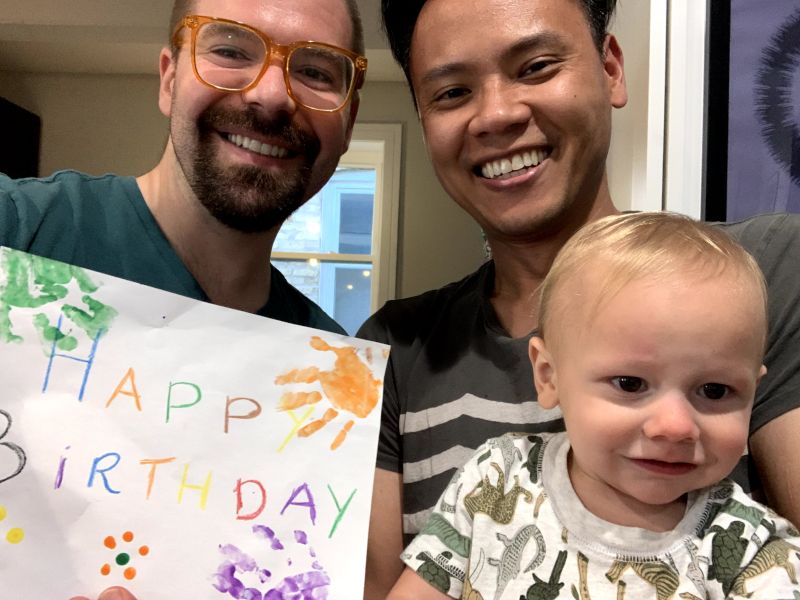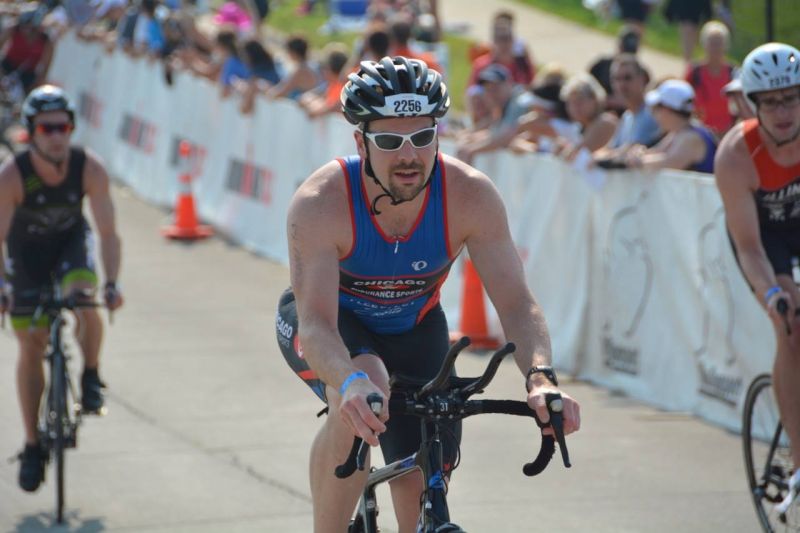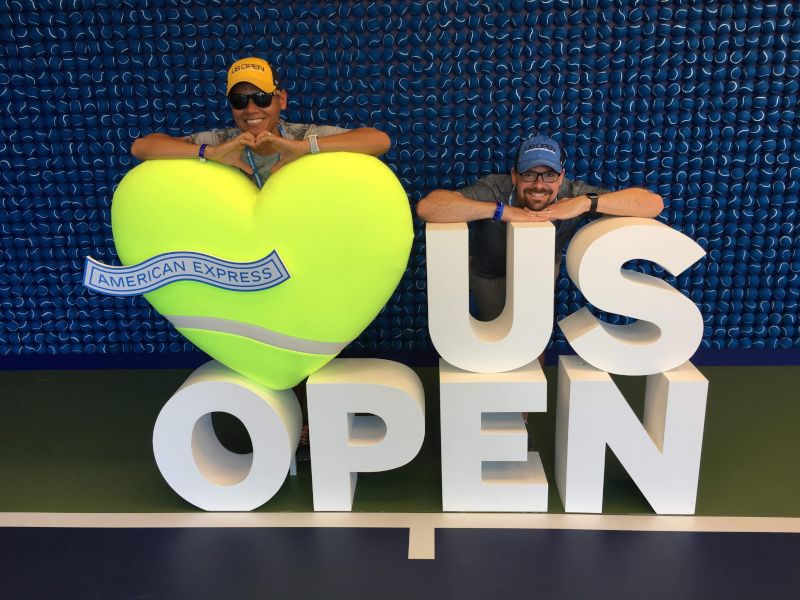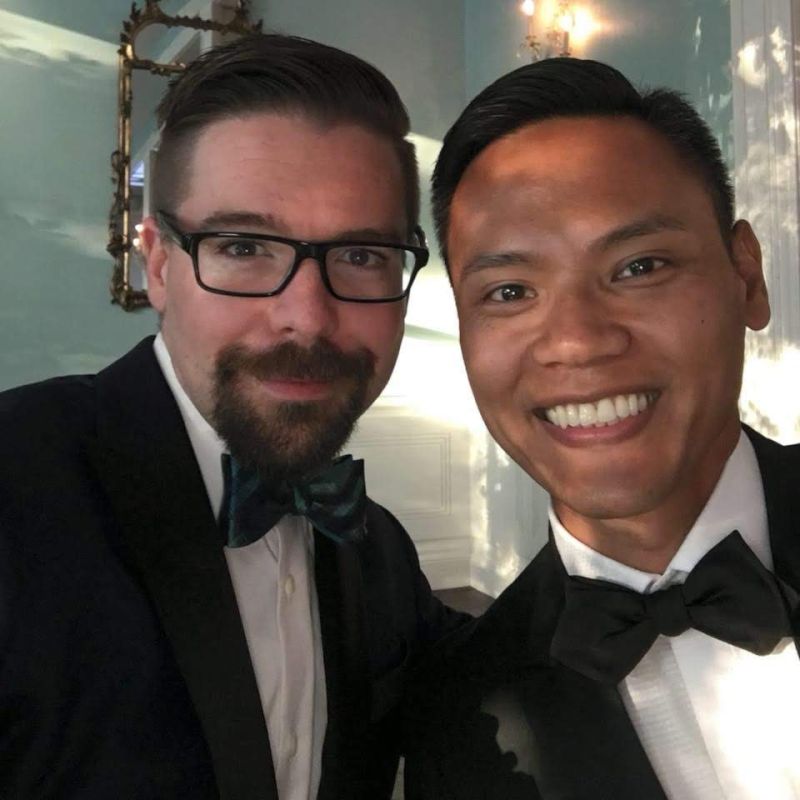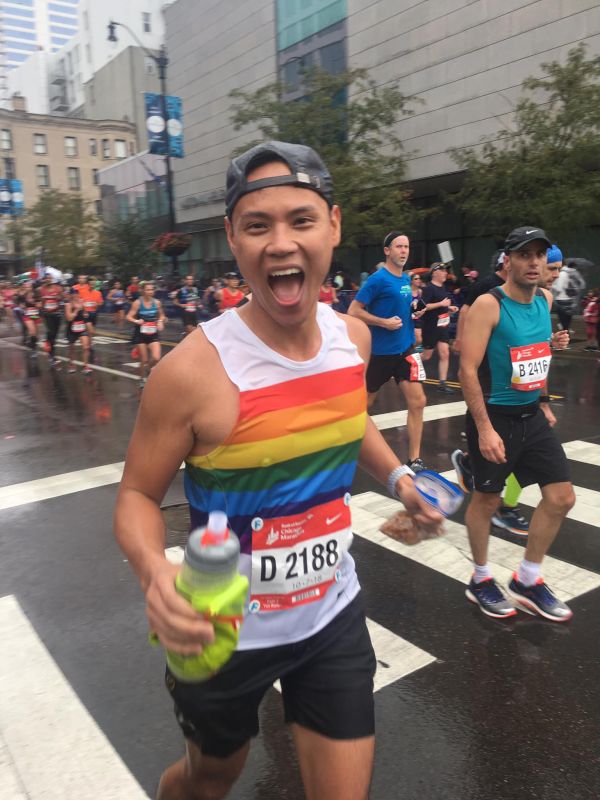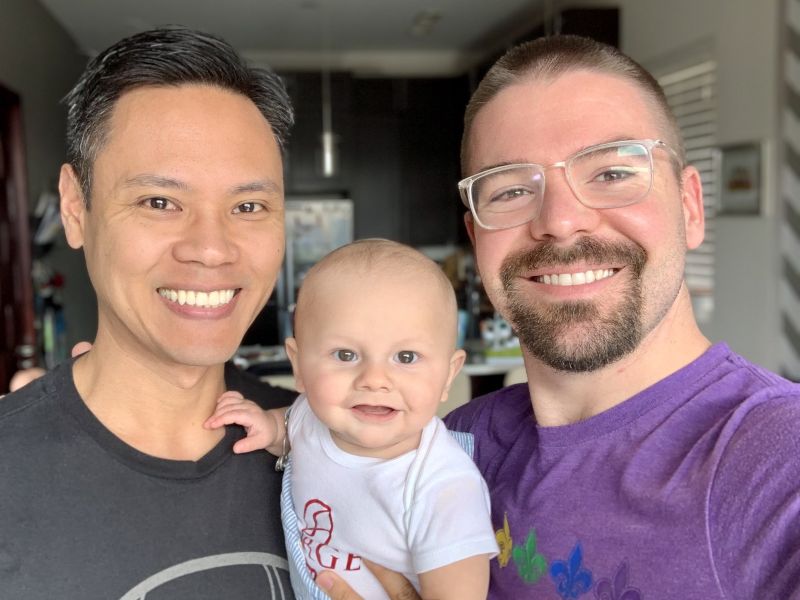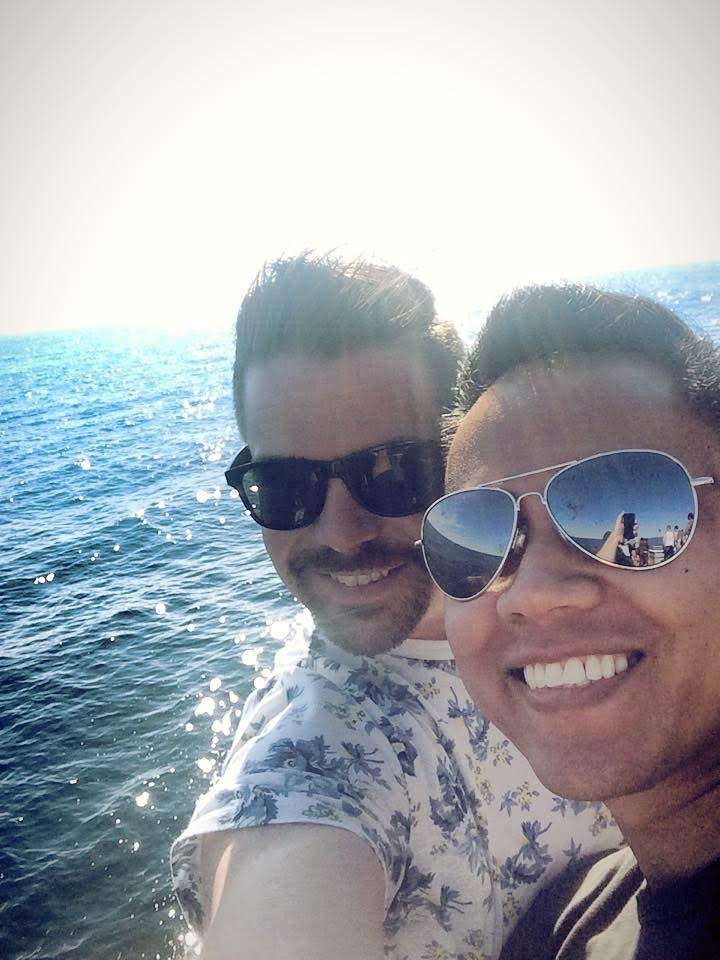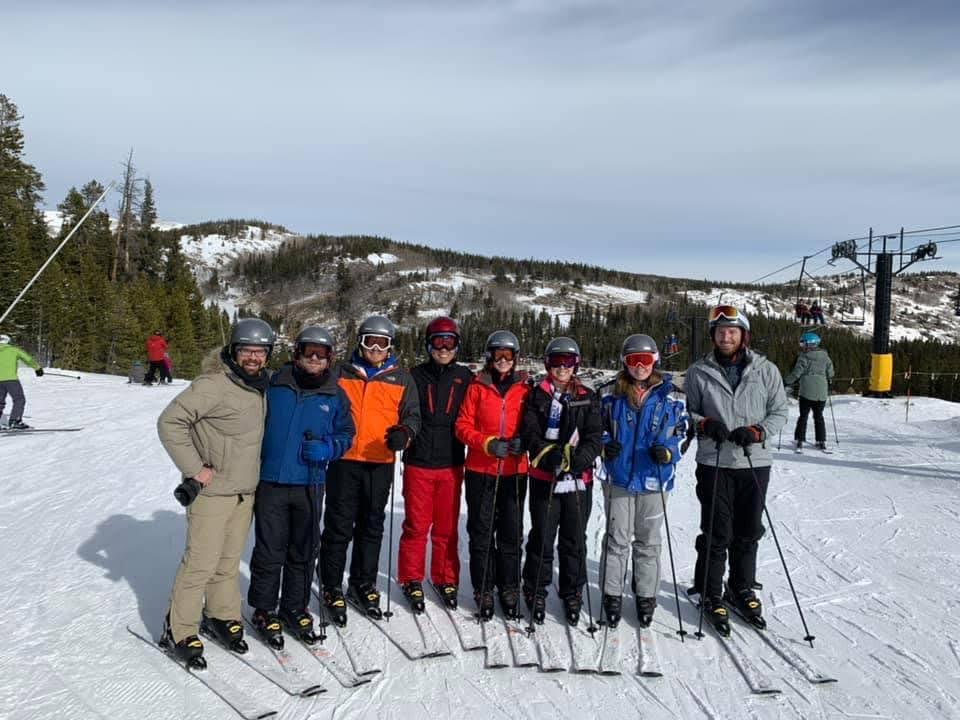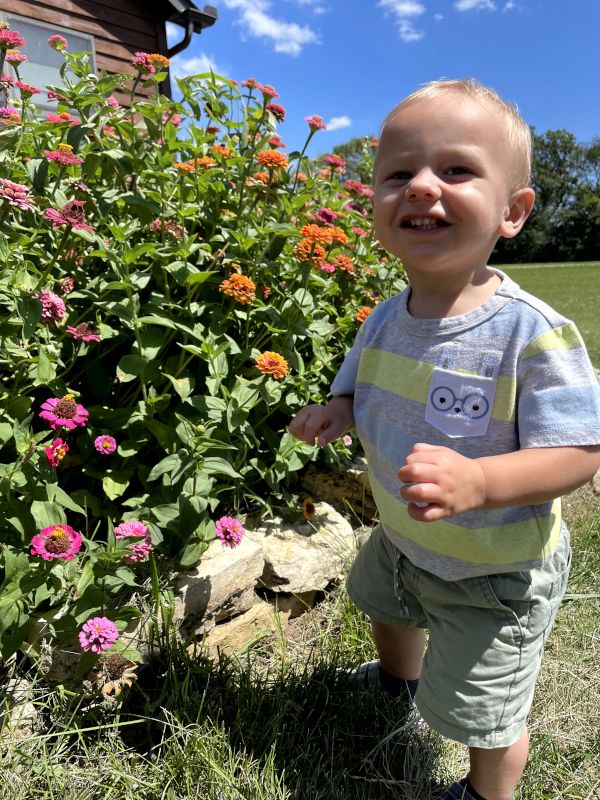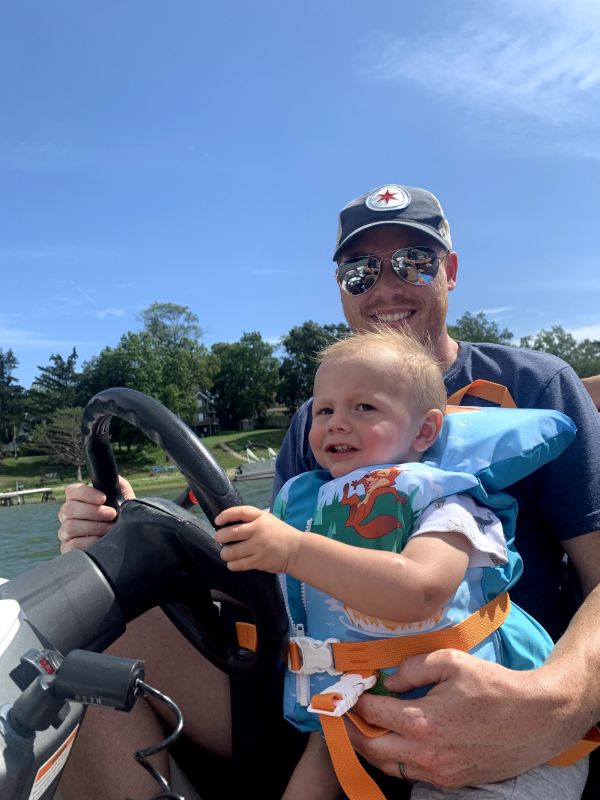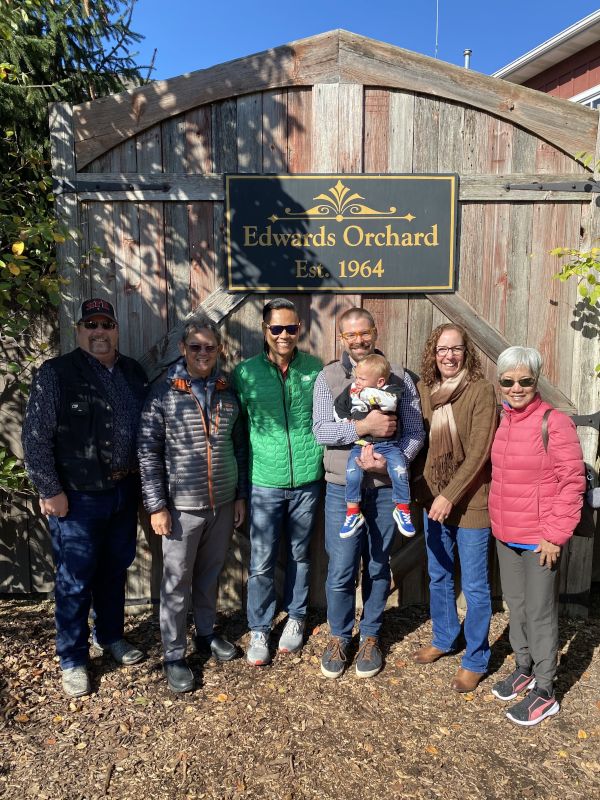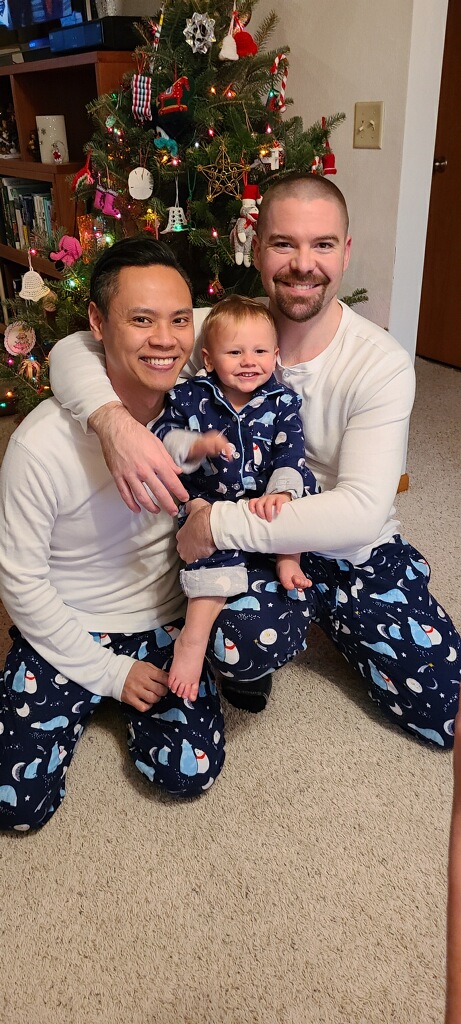 ×
1 / 12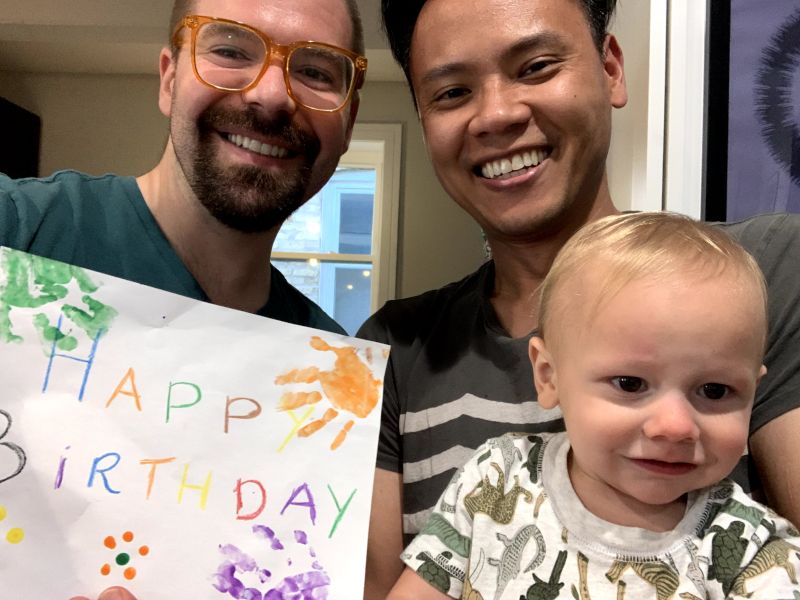 2 / 12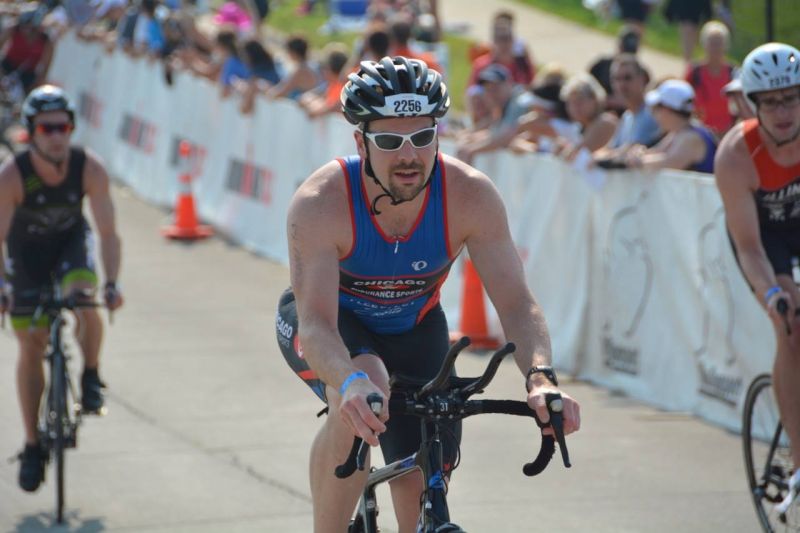 3 / 12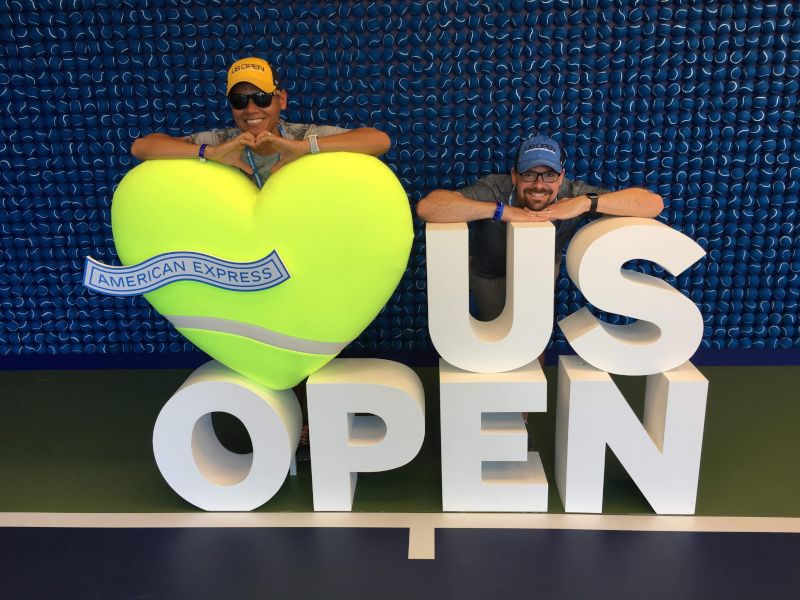 4 / 12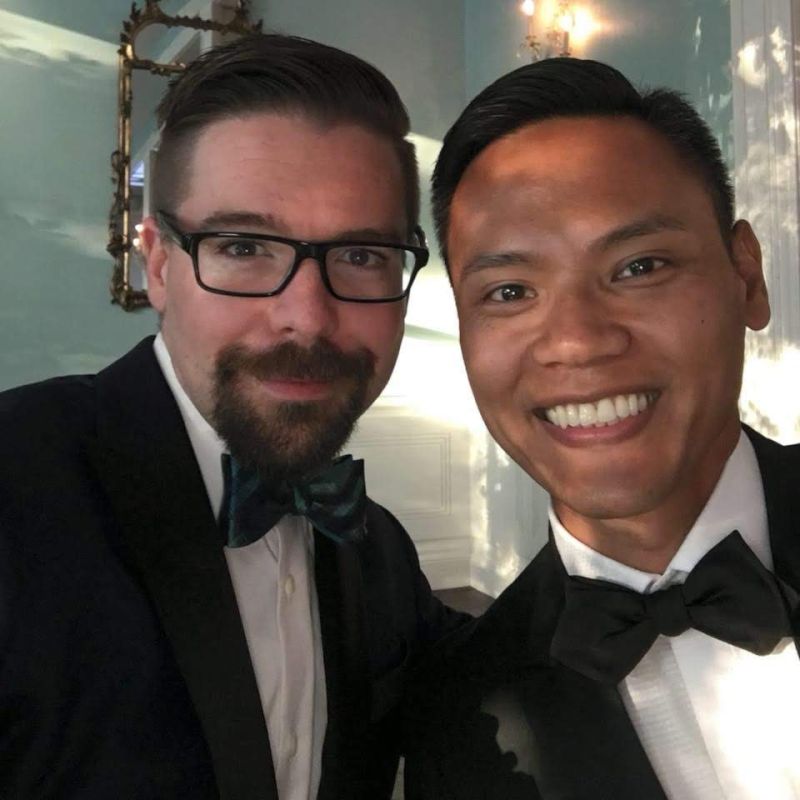 5 / 12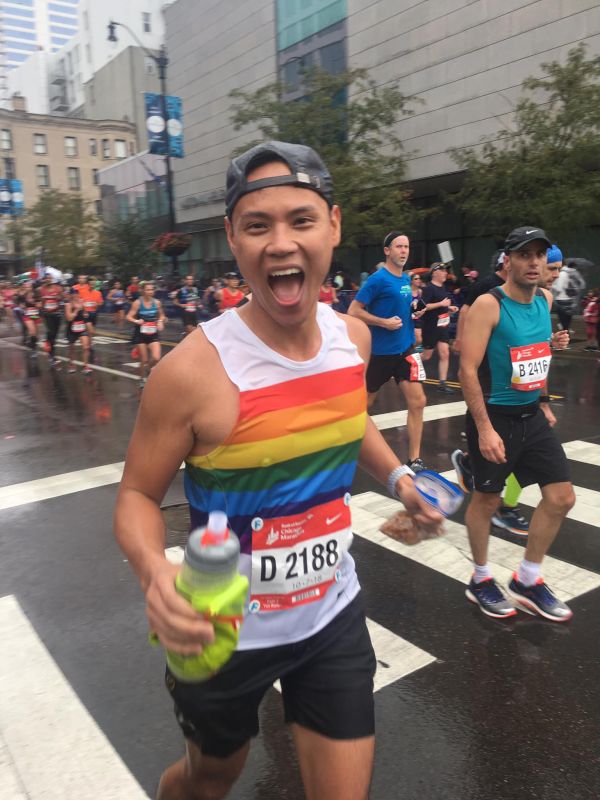 6 / 12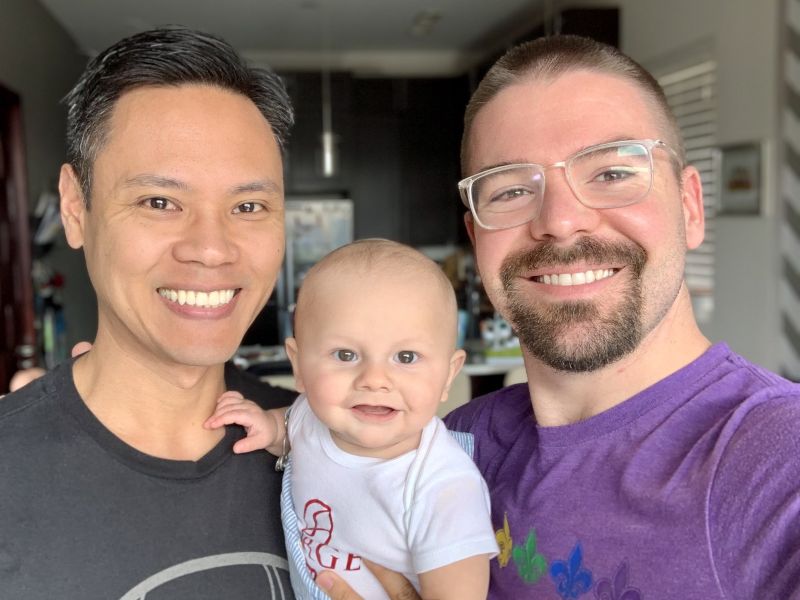 7 / 12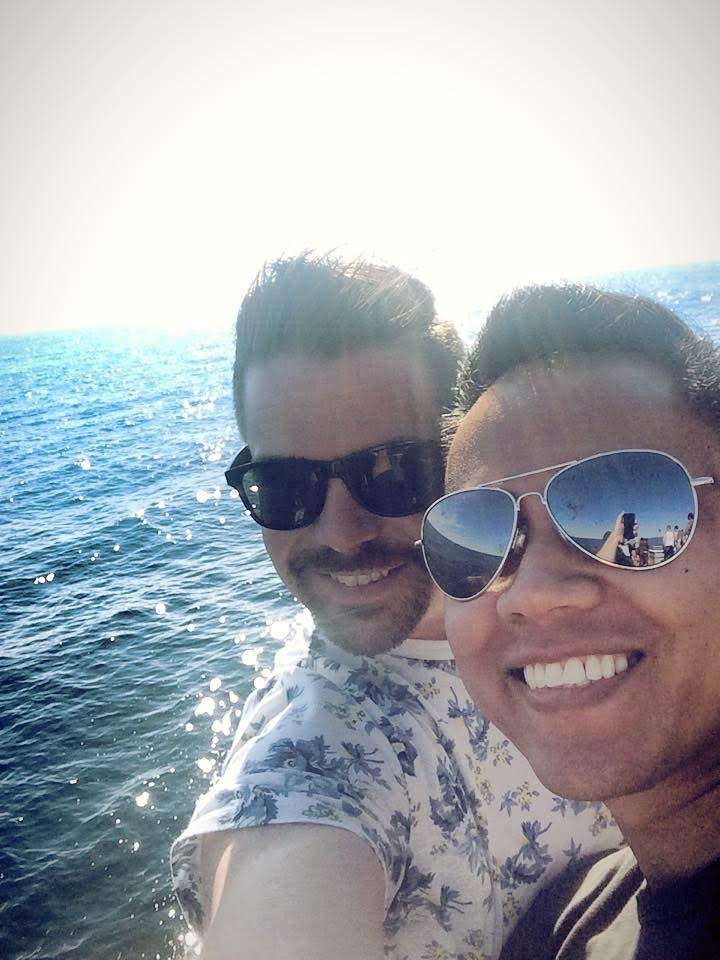 8 / 12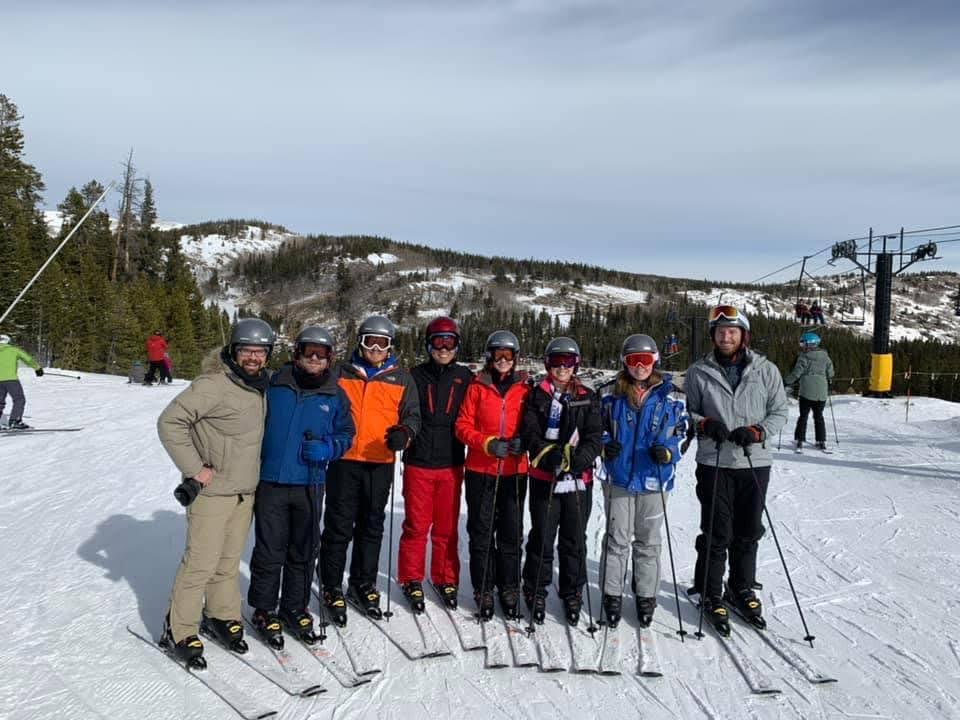 9 / 12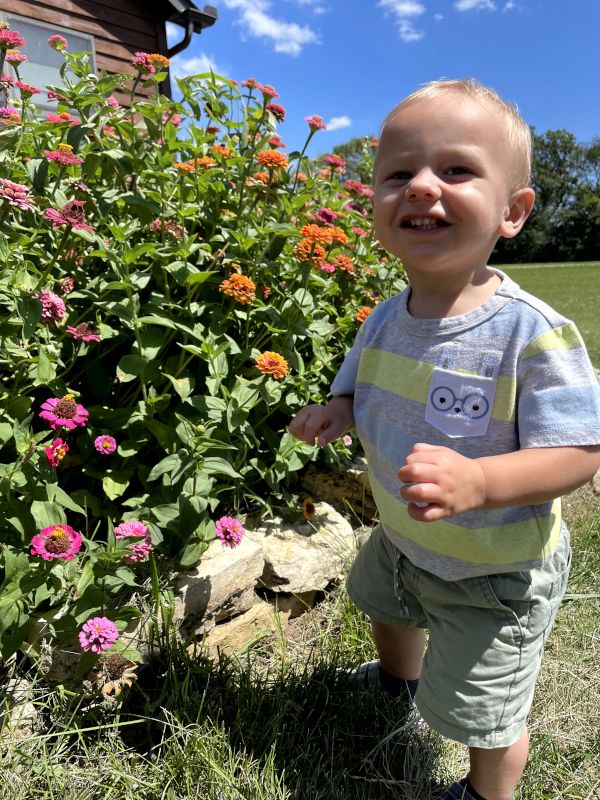 10 / 12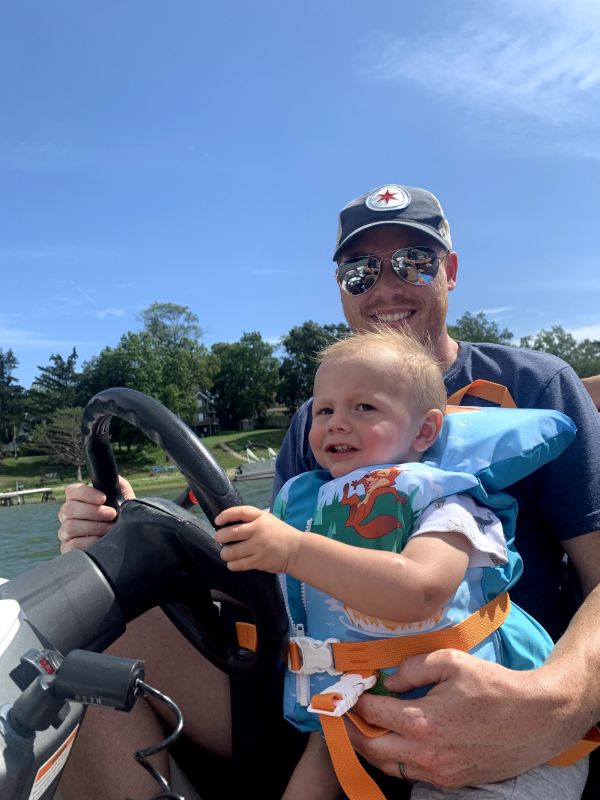 11 / 12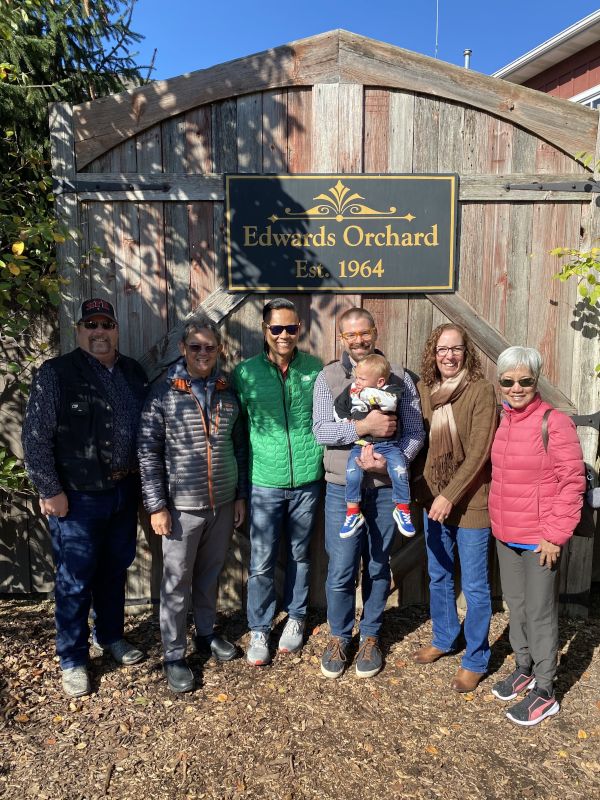 12 / 12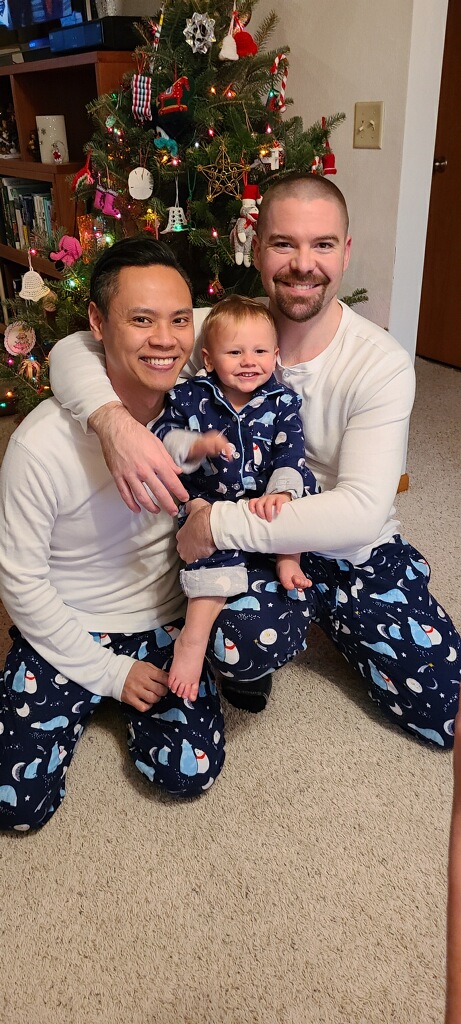 ❮
❯
Our House and Neighborhood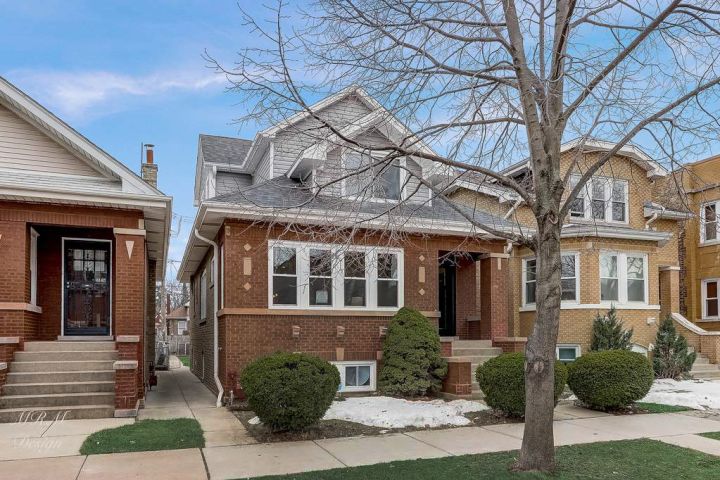 Chicago has been home to us for almost 20 years, and parenthood, along with the COVID-19 pandemic propelled us into a search for a single-family home after living in a condo together for almost seven years. Our search landed us in the Portage Park neighborhood on Chicago's northwest side. The neighborhood was originally established in the 1920s and is filled with traditional Chicago architecture including the classic Chicago Bungalow, which is the type of house we now live in.
Greg loves mid-century modern design which allows our home to be both welcoming and warm, but still contemporary. There is plenty of room to grow in the house which has three bedrooms on the home's second floor and a finished basement.
A five-minute walk from our house is Portage Park which is an expansive 36-acre park complete with an Olympic-sized swimming pool, tennis courts, baseball diamonds, and an incredible playground that we frequent with Campbell as much as we can when the weather permits. We can't wait to watch both Campbell and his sibling play together and take advantage of all the park has to offer in the years to come.
Our neighborhood allows us the ability to choose between two elementary schools which are both highly rated, and within walking distance of our house. Both schools offer a focus on either technology or the performing arts, and if we opt to go into private schools, one of Chicago's most reputable private schools is less than two miles away.
Our Extended Families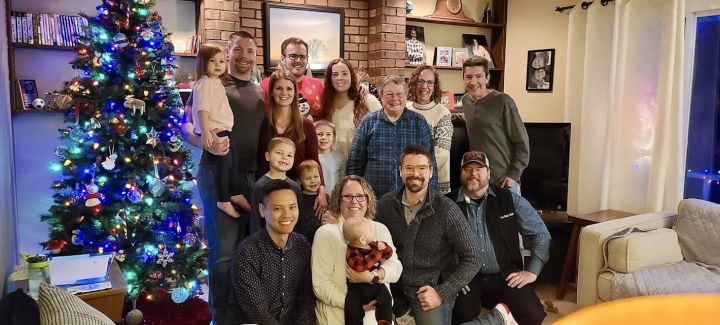 Since we are a part of the LGBTQ community, the concept of a "chosen family" allows us the ability to not only surround ourselves with biological relatives but also meaningful life-long friends that are as close, if not closer, than those we share a gene pool with. Between aunts and uncles, tia and tios, titas and titos, and plenty of cousins, our extended family is a diverse tapestry of cultures that has just begun to reveal its importance to our immediate family's life.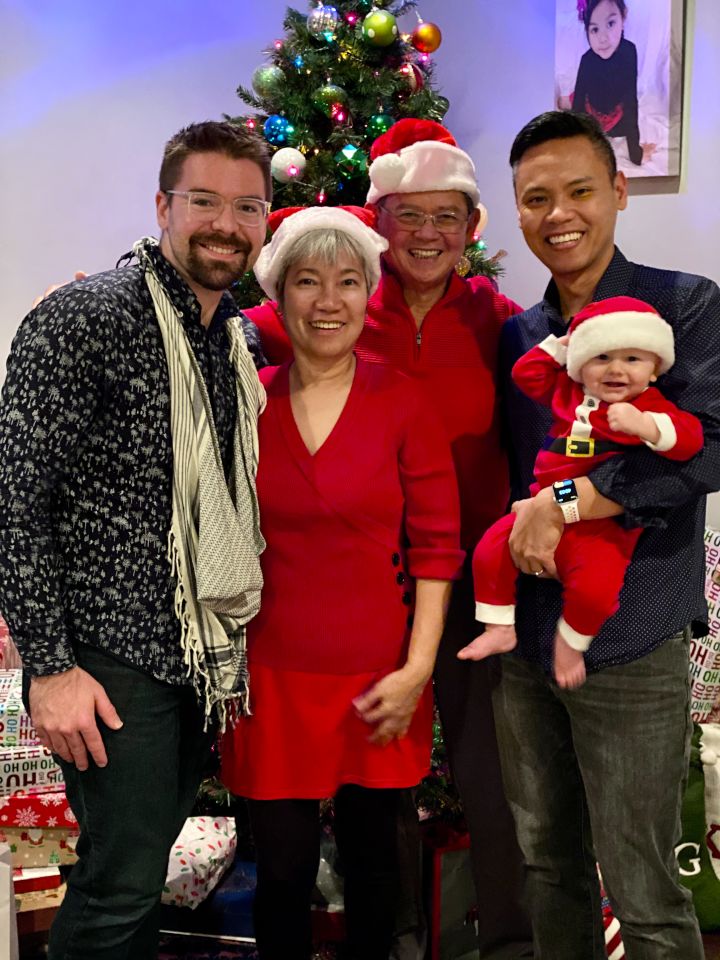 On any given weekend you can find us quickly traveling from our urban setting of Chicago to Greg's parents' ranch complete with the sprawling countryside and plenty of horses. Or hosting a cook-out in our backyard with the sprinkler going outside for the kids to enjoy.
While Kris' family is in New Jersey, time with "Lala and Dodo" is generally a span of a week or more including our annual holiday trip. For the week of Christmas, Kris' entire family comes together at Kris' brother's house so that the cousins can play and the family can spend quality time together.
We often think about how lucky we are to have such an incredible community that showers Campbell with love and support. Everyone is excited to welcome the next addition to our family and embrace their story and culture while sharing their own.
From Us to You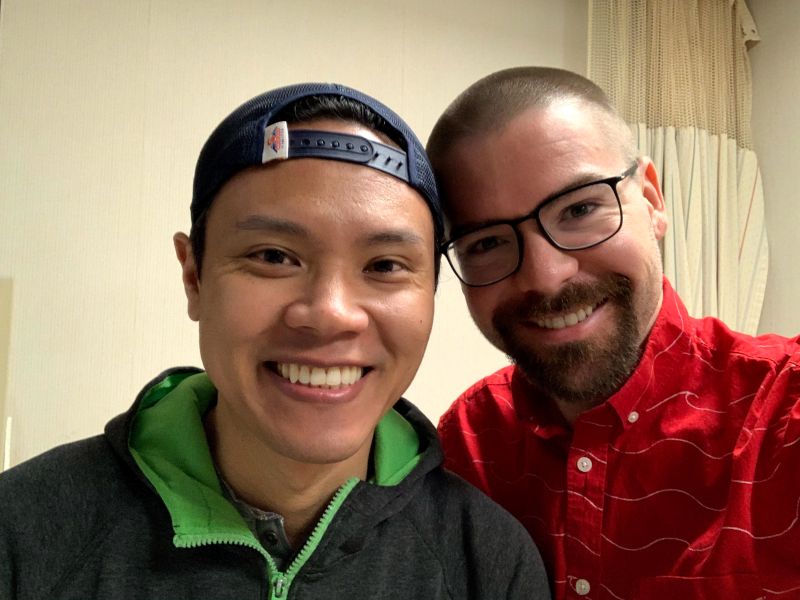 To an incredible woman,
Brave is an understatement for what you are considering, and we are humbled at the fact that we may be the chosen couple to be the fathers of your child. Having gone through the adoption process before does not equip us to know what you are going through. No amount of empathy would allow us to be in the shoes of a mother being faced with this impossible decision. We are not here to make any decisions for you, we are here to be open to the possibility that there is a baby out there that will call our son Campbell, brother, that will call Kris, Daddy, and will call Greg, Papa. That there is a child out there that will be welcomed into a home that is bursting with love and joy, and that there is a community waiting for them that will accept them for who they are, and will accept you for who you are and the choice you are making.
We are here to be an open support system for you during the time leading up to and after having your baby and are excited to explore and define what open adoption means to you. We are ready to shape a meaningful path forward that will allow your child to not only know who you are but to have a relationship with you. Technology makes it so that we are never too far away, and we are open to sharing pictures, letters, video calls, and scheduling visits to make sure you are able to share in the loving home and environment that our family will provide.
Being fathers to Campbell has been one of the most enriching and rewarding experiences we have ever been able to share. No amount of books or classes could have prepared us for knowing what it means to be responsible for another life. We've had the opportunity to share in so many firsts over the past two years, from rolls to stands, stands to steps, steps to runs -- there isn't a day that goes by that we are not astonished by just how special it is to be entrusted with the responsibility to raise, provide for and support a child. We cannot wait to extend those firsts to include first big-brother kisses, family game nights, backyard camping, steps into school, graduations, and walks down the aisle. We invite you to share in those special moments with us not only for your child, but for our entire family.
It is impossible to know the future, and we too wish there was a crystal ball that would let us see how it would all work out in the end, but faith is defined as having trust and confidence in something that cannot be seen, and we are asking you to put your faith in us. We will do our absolute best to make sure that this child has an incredible life filled with adventure and with amazing moments, including you. We know that we are ready to bring home a sibling for Campbell, and raise them to be someone who is caring, kind, and compassionate. Someone who is going to love to tell their story, and who is excited to have two dads, a brother, and a mom.
We cannot wait to start this journey with you.
From loving fathers-to-be,
Kris & Greg
Favorites
Actor
Hugh Jackman
Leonardo DiCaprio
Actress
Sandra Bullock
Meryl Streep
Author
Suzanne Collins
David Sedaris
Book
Harry Potter Series
Ender's Game
Cartoon
Molly of Denali
Daniel Tiger's Neighborhood
Childhood Memory
Fishing with my dad and little brother
Going to the apple orchard
Childhood Toy
Stuffed Kiwi bird
Video Games
Children's Book
If Animals Kissed Goodnight
Where the Red Fern Grows
Classic Movie
The Sandlot
A Christmas Story
Day of Week
Thursday
Thursday
Dessert
Bubble Tea with tapioca pearls
Tiramisu
Disney Movie
Frozen
The Incredibles
Dream Job
Grand slam tennis tournament director
Business Owner
Dream Vacation
Bali
Tour of Europe
Family Activity
Dinner time
Going for walks
Flower / Plant
Orchid
Succulents
Food
Orange Chicken
Braised Short Ribs
Form of Exercise
Running
Running
Game
Scattergories
Settlers of Catan
Holiday
Christmas
Thanksgiving
Holiday Song
Jingle Bells
Have Yourself A Merry Little Christmas
Holiday Tradition
Celebrating two Christmases with family in Illinois and New Jersey
Visiting Family in New Jersey
Junk Food
Polvoron - Filipino shortbread cookie
Hint Of Lime Tostitos
Leisure Activity
Binge watch
Binge Watching TV
Memory with a Child
Bedtime routine with my son
Holding Our Son For the First Time
Memory with Spouse
Wedding day
Dancing at our Wedding
Movie
Harry Potter series
Twister
Movie Munchie
Nestle Buncha Crunch
Popcorn with Bunch a' Crunch
Movie Quote
No day but today
"You've never seen it miss this house, and miss that house, and come after you."
Musical Group
Destiny's Child
Pentatonix
Nursery Rhyme
The Wheels on the Bus
Humpty Dumpty
Olympic Event
Swimming
Swimming
Personal Hero
Simon Sinek
Michelle Obama
Play
Midsummer Night's Dream
Harvey
Poet
Amanda Gorman
Edgar Allen Poe
Quality about my Spouse
His creativity knows no bounds
Organization
Quote
Give thanks for a little and you will find a lot
"Do we settle for the world as it is, or do we work for the world as it should be?"
Restaurant
Olive Garden
Bar Siena - Chicago
Scripture
For you created my inmost being; you knit me together in my mother's womb. I praise you because I am fearfully and wonderfully made; your works are wonderful, I know that full well. (Psalm 139:113-14)
Song
Free spirit by Khalid
Such Great Heights - Iron & Wine
Sport to Play
Volleyball
Tennis
Sport to Watch
Tennis
Tennis
Sports Star
Serena Williams
Serena Williams
Sports Team
Chicago Cubs
Cubs
Subject in School
Geography
Art
Thing to Cook
Filipino Pork Menudo
Braised Short Ribs
Time of Day
Morning
Morning
Tradition
Celebrate birthdays
Going to the apple orchard
TV Show
Friends
RuPaul's Drag Race
TV Show Character
Chandler Bing
Leslie Knope
Type of Music
Pop
Indie Pop
Vacation Spot
Beach
Somewhere close to nature
Video Game
Final Fantasy
Final Fantasy