1-800-ADOPTION
Thank you for viewing our profile
If you would like to learn more about us, please call 1-800-ADOPTION (2367846), fill out the form at the bottom of our on-line profile page, or email us at bp_information@americanadoptions.com.
To revisit our on-line profile page and view our profile video at American Adoptions, simply use your mobile phone to scan the QR code on the right. We are looking forward to hearing from you!
Avi & Kyle
Hi! We're Avi and Kyle. We're a half-Indian half-Italian gay couple living in Washington D.C. with our precious puppy Koko. Adopting a child will be our dream come true and we cannot thank you enough for learning a bit more about us. We both feel so blessed for all the love and support we have in our lives and we cannot wait to give that all to a little one!
About Us
Job
Senior Manager
Director of Marketing
Education
Master's Degree in Healthcare Administration
Bachelor's Degree in Business Administration
Relationship
Legally Married
Our Favorite Vacation Spot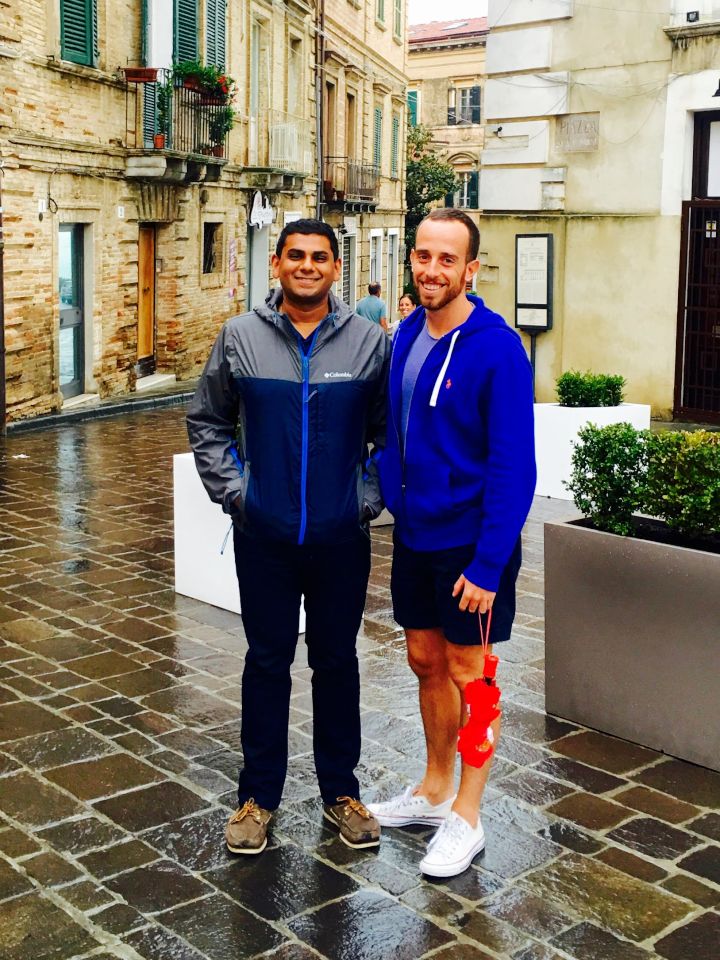 Having spent childhood summers with our grandparents in Italy and India, we both value traveling and getting away to relax, recharge, and experience new cultures. We have been lucky to travel to over 20 countries so far, but both agree there is no place like Italy! Kyle's Dad grew up in the countryside in a small town called Montenero Di Bisaccia, that sits right on the Adriatic Sea. We are lucky to have tons of family there and visit every other summer for two weeks.
While we love visiting the many picturesque monuments, Italy is a beautiful reminder of what is important in life – family, friends, and food! Mornings are spent outside on the beach – swimming in the crystal-clear water, reading in the ocean breeze with the waves crashing behind us, or running up a trail along the many gorgeous vineyards or olive trees. In the evenings, Kyle's aunts will cook up a seven-course meal: deli meats, lasagna, pork, leafy vegetables, melon, gelato, fig cookies, and espresso – all made from freshly picked ingredients on the family farm. We also get to listen to stories from Kyle's Dad's childhood. Despite growing up without much money, their large family worked hard on the farm and experienced all the real joys of life and built a solid foundation around that. The laughs and love we share in those moments are truly what gets us through many months once we get home until of course we start counting down the days to go back again!
Our Leisure Time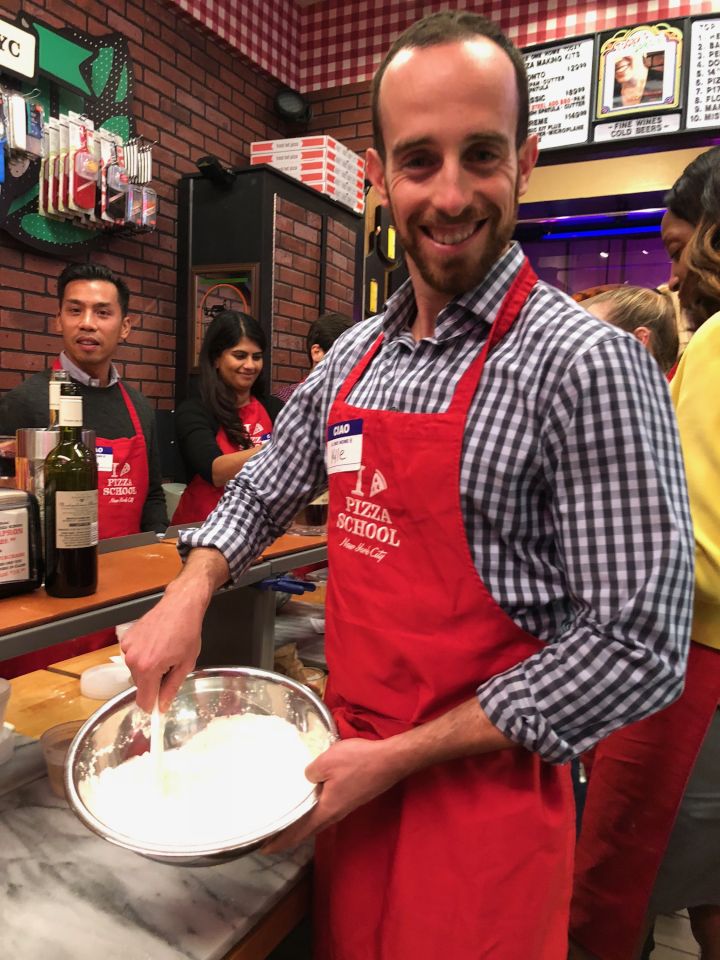 We like being active and make it a point to make the most of our free time as a family! Mornings start with our dog Koko jumping on our bed, letting us know it's time to wake up! We enjoy a fresh pot of coffee on our patio and watch the Today Show (Kyle's favorite newscast) while getting prepared for the day. After work, we take Koko on a long walk through many of our favorite parks, while catching up on our days and chatting with our families. Health is a priority and we work out at the gym in our building or use our Peloton to get in a good burn! That is followed by our favorite hobby: cooking. Our kitchen is frequented by the Italian, Indian and American classics like Kyle's famous lasagna, Avi's famous Chili, butter chicken, and fresh Italian bread. We love our garden and keep some of the fresh ingredients like tomatoes, peppers, and basil at the ready! Avi loves a good deal, so it's not uncommon spending an evening at a local pop-up shop, farmer's market or simply browsing the Costco aisles! On the weekends we love walking around the national monuments, taking hikes at the various state parks, playing tennis, catching up on movies, and spending time with friends and family over a hearty meal.
Our Pets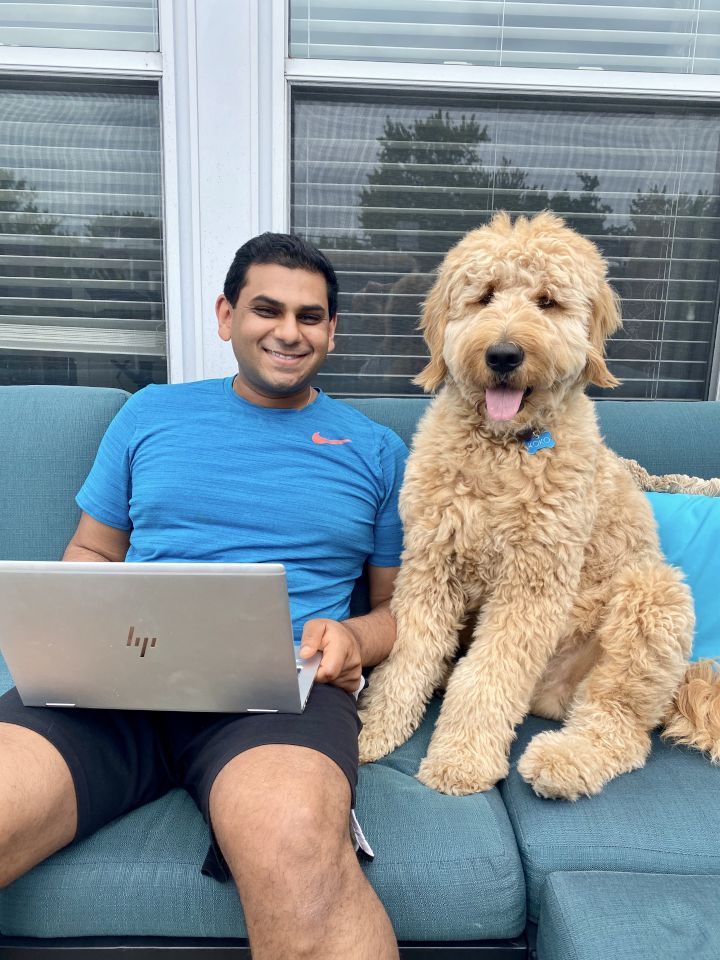 We each had dogs growing up (Kyle had a Shih Tzu named Jag and Avi had a German Shepard named Charlie) and learned so much about companionship, responsibility, safety and a new form of selflessness and love. Avi also had a rabbit, goldfish, parakeets and guinea pig growing up and has developed a special connection with animals.
As a couple, about a year ago we adopted a Goldendoodle puppy named Koko at just 8-weeks old and he truly has prepared us for becoming parents. We have learned how to collaborate and discuss how we want to raise him, synchronize our schedules for walks, and caring for him and is a constant reminder to get outdoors and enjoy each other's company as a family. We truly adore Koko almost as much as our niece Ria and he only reaffirms our desire to bring a child into our lives. Our parents treat Koko like their first grandchild and we all love him so much. We know what a positive influence pets have been to us and are excited about the special role Koko will play in our child's life.
Photos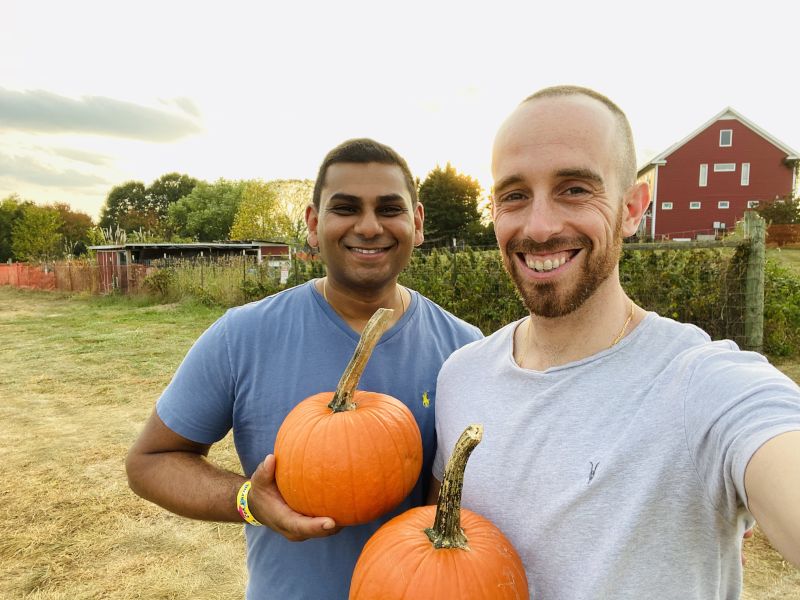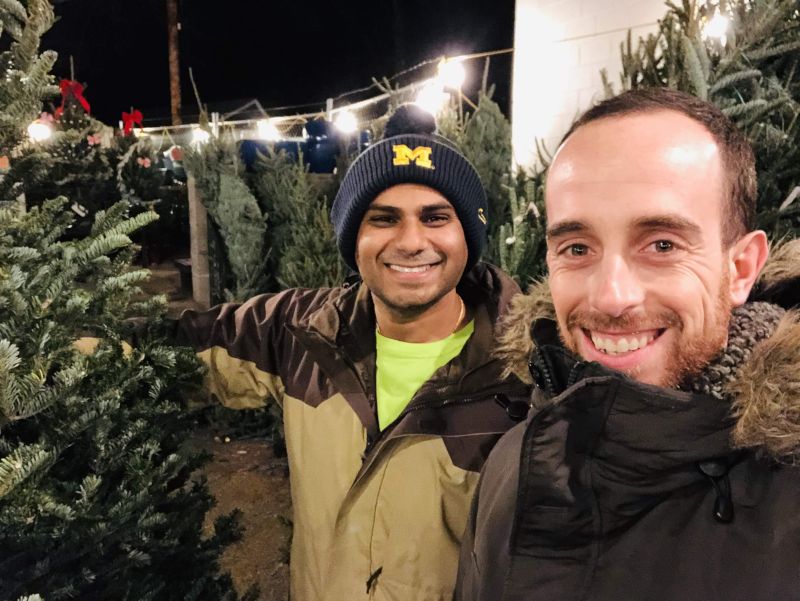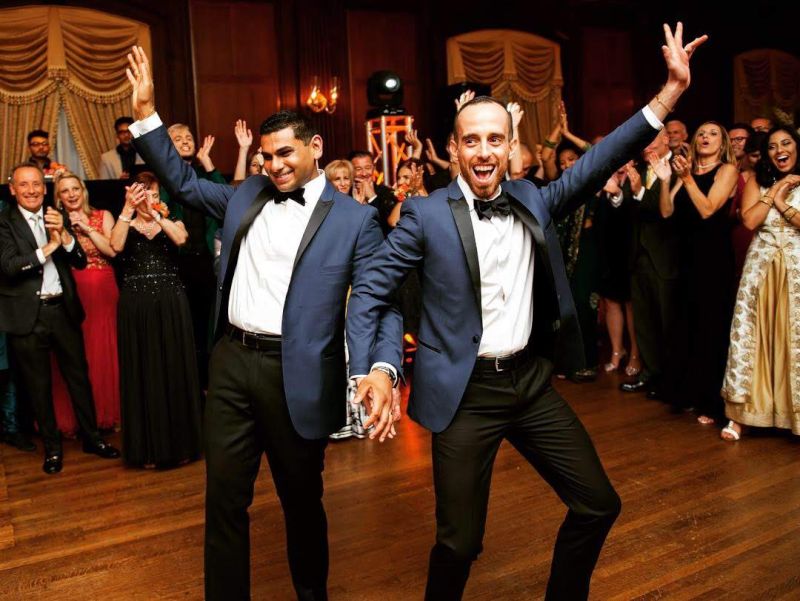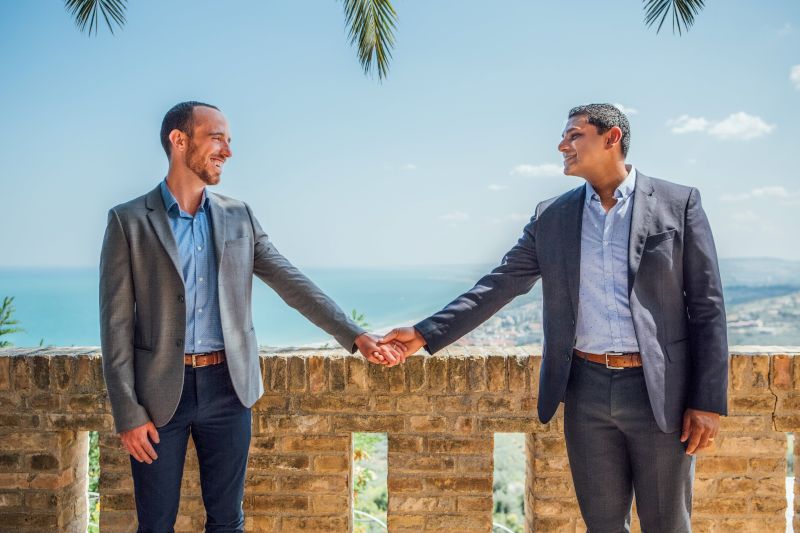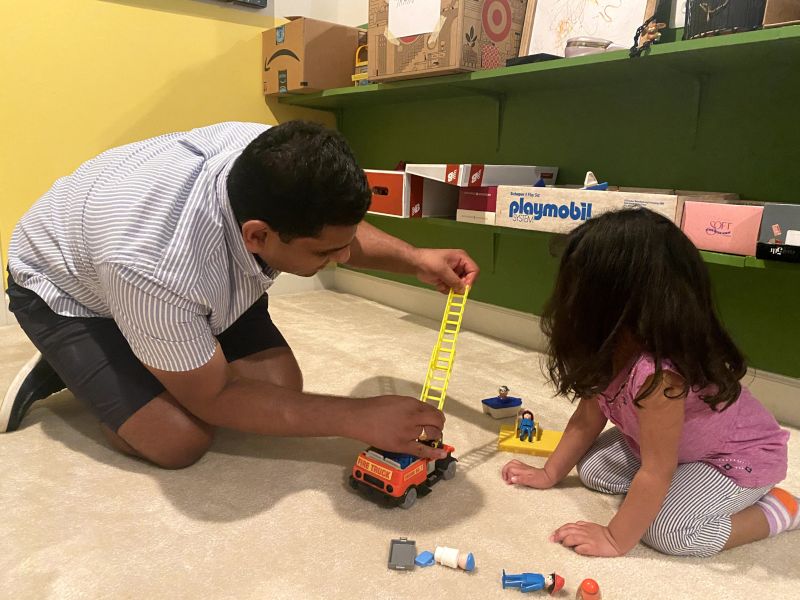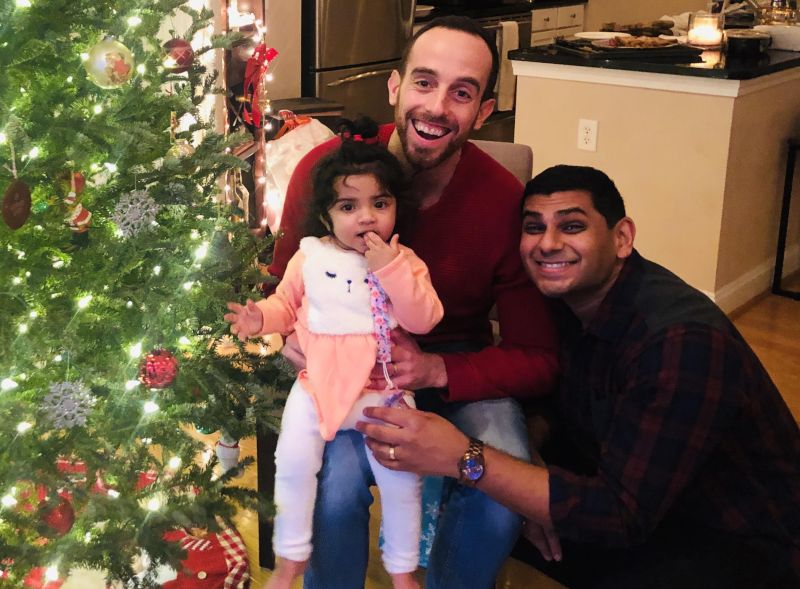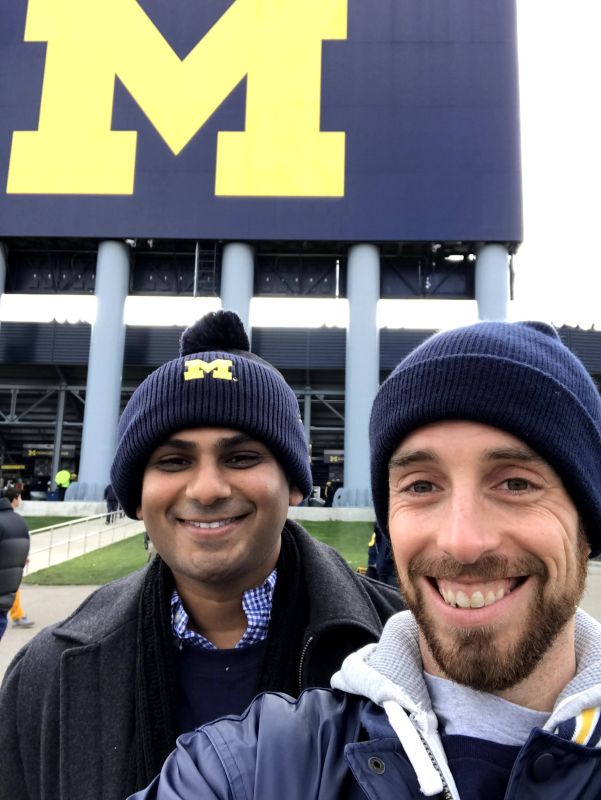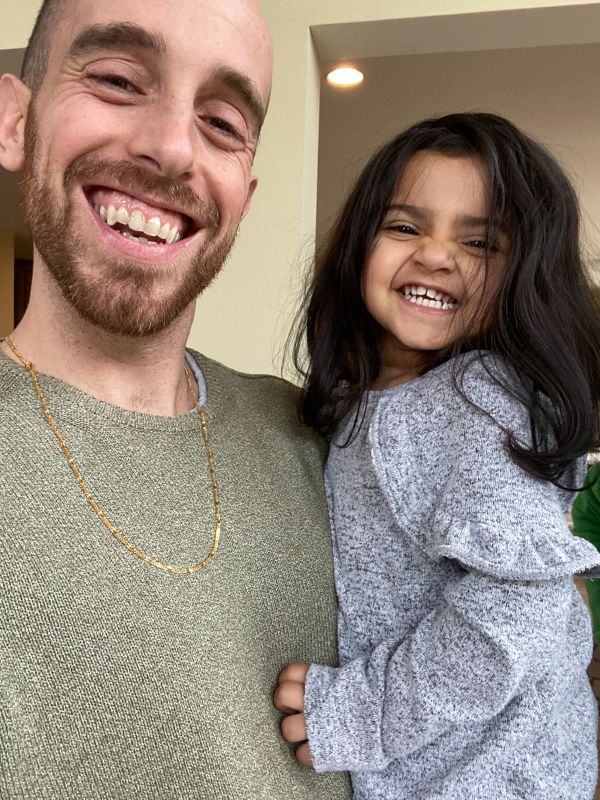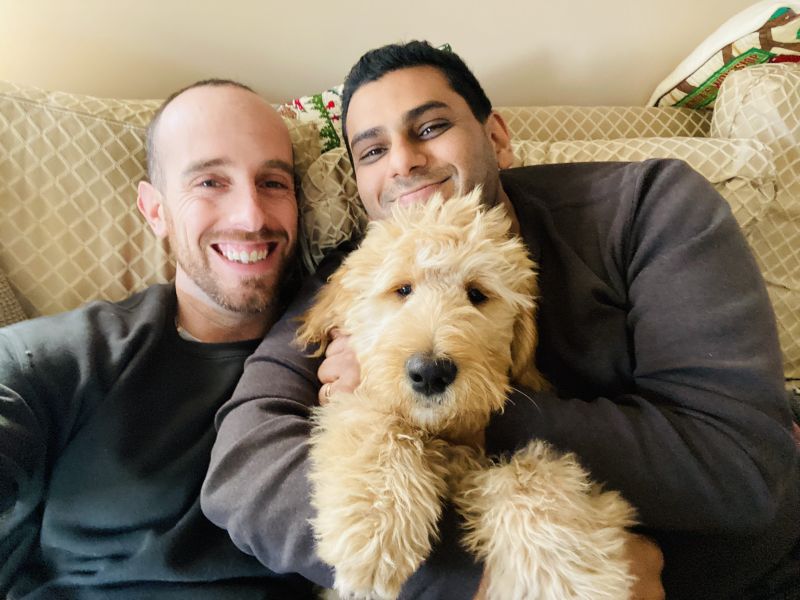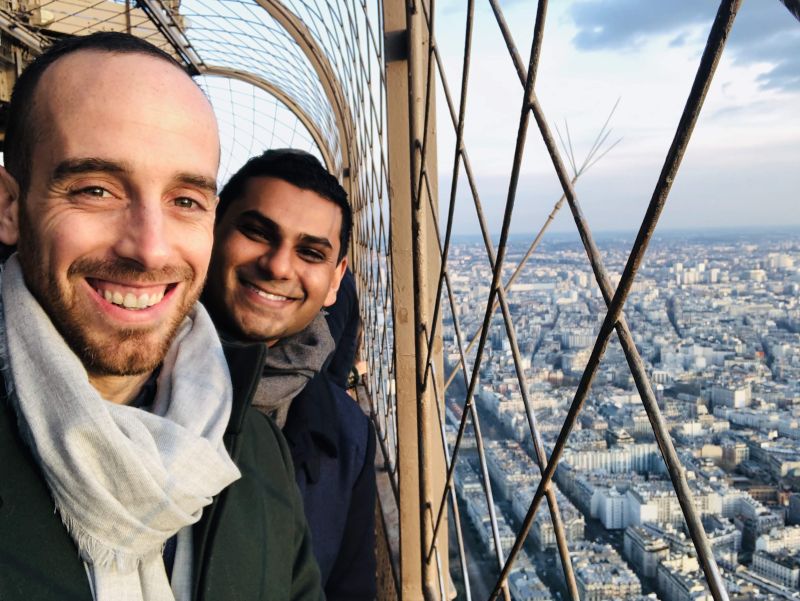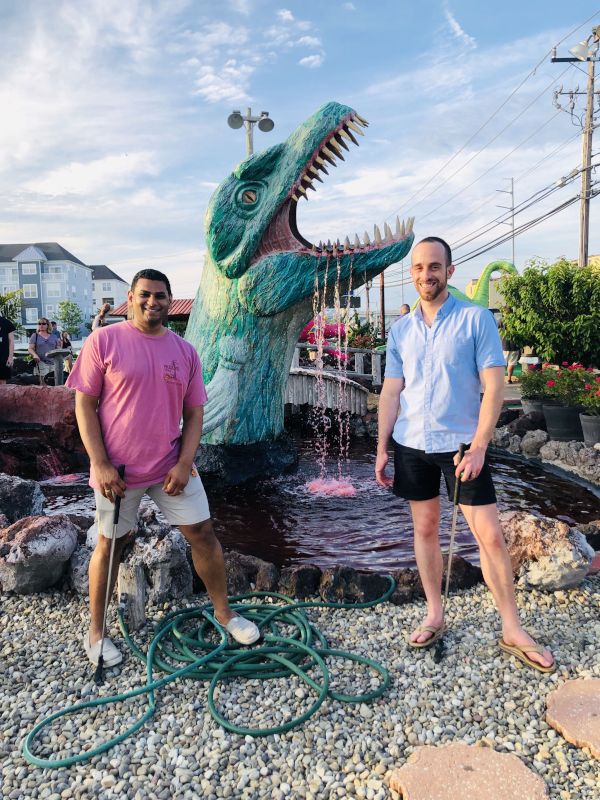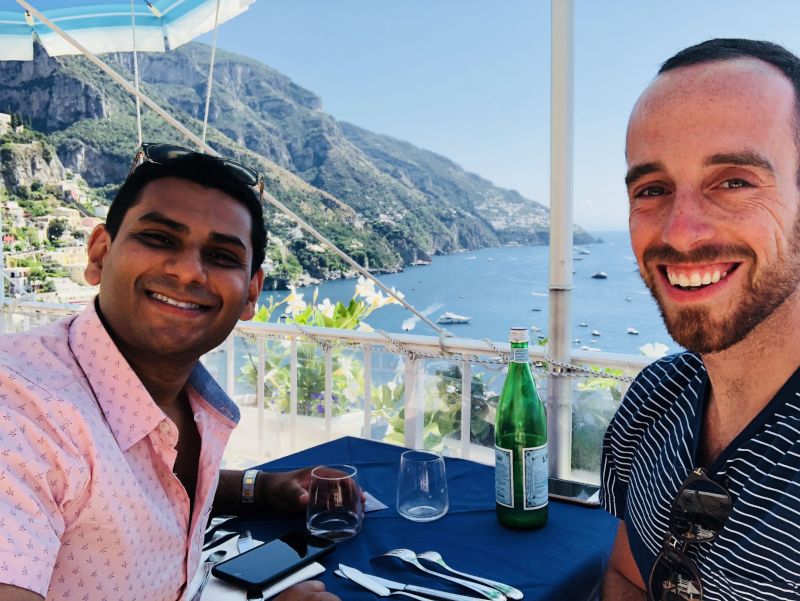 ×
1 / 12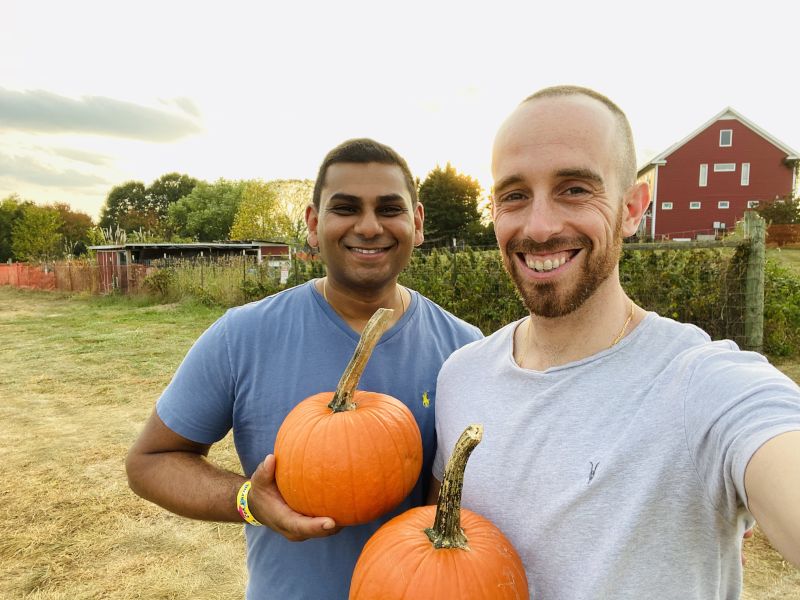 2 / 12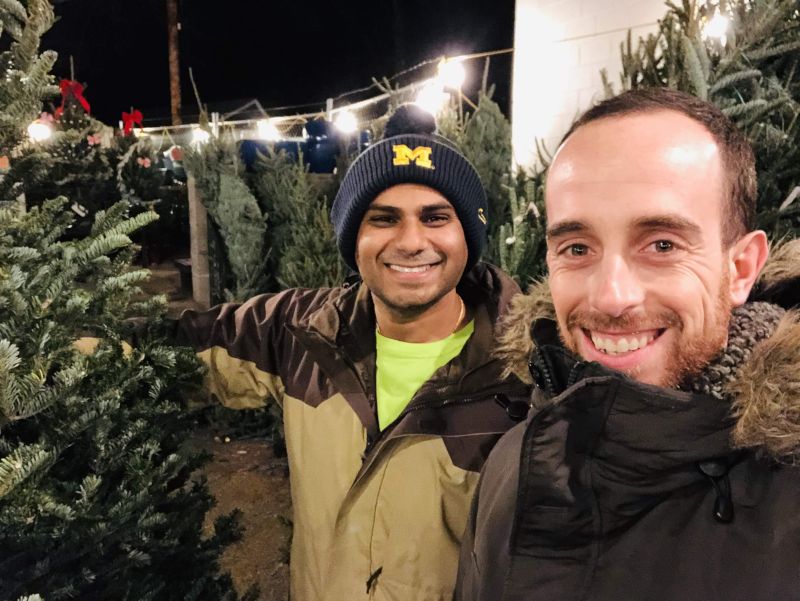 3 / 12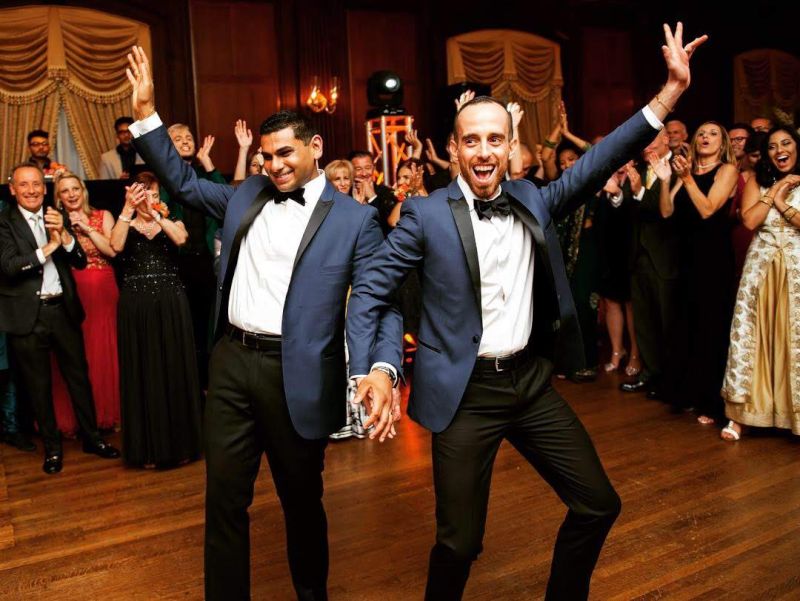 4 / 12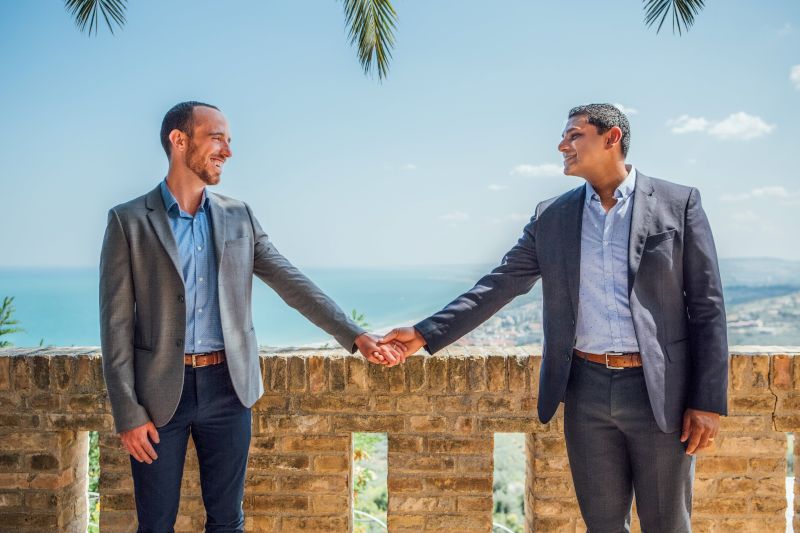 5 / 12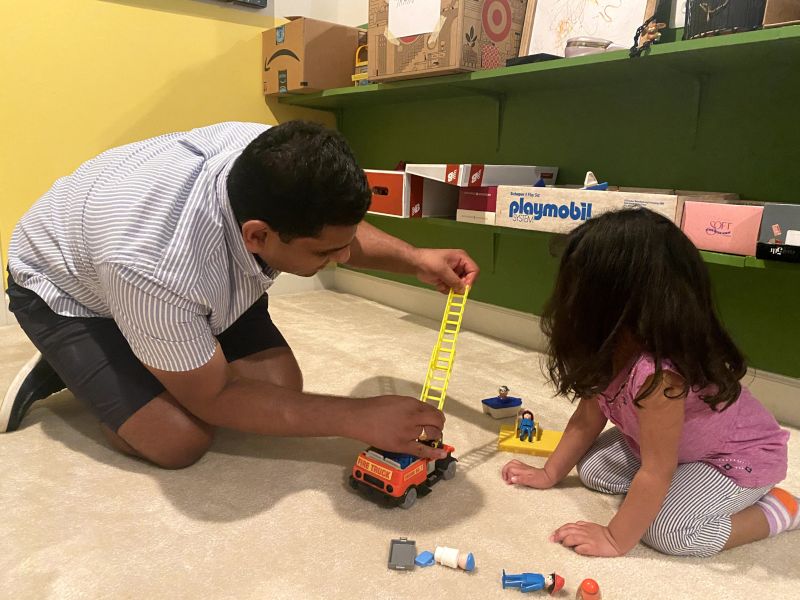 6 / 12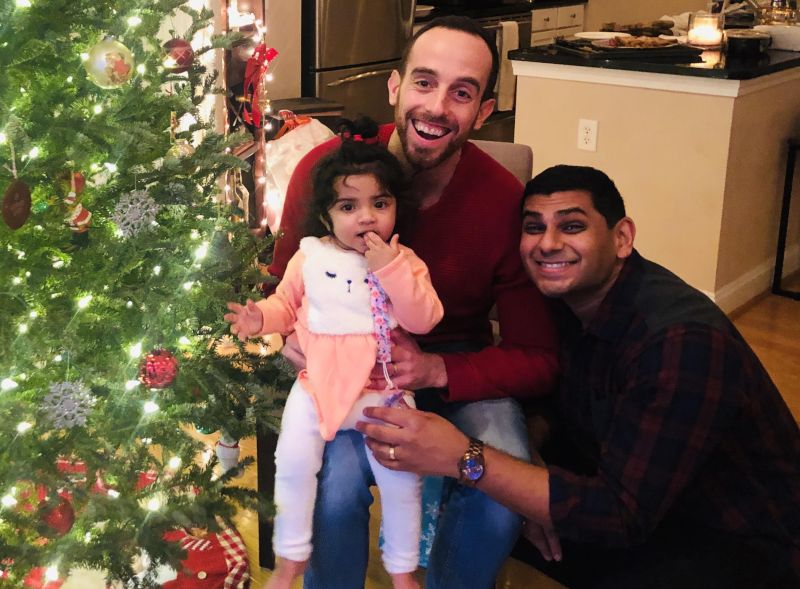 7 / 12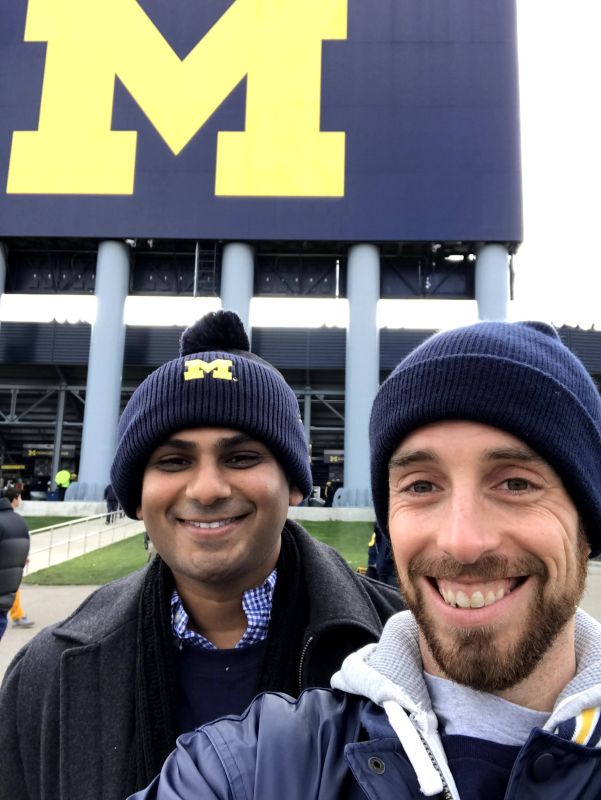 8 / 12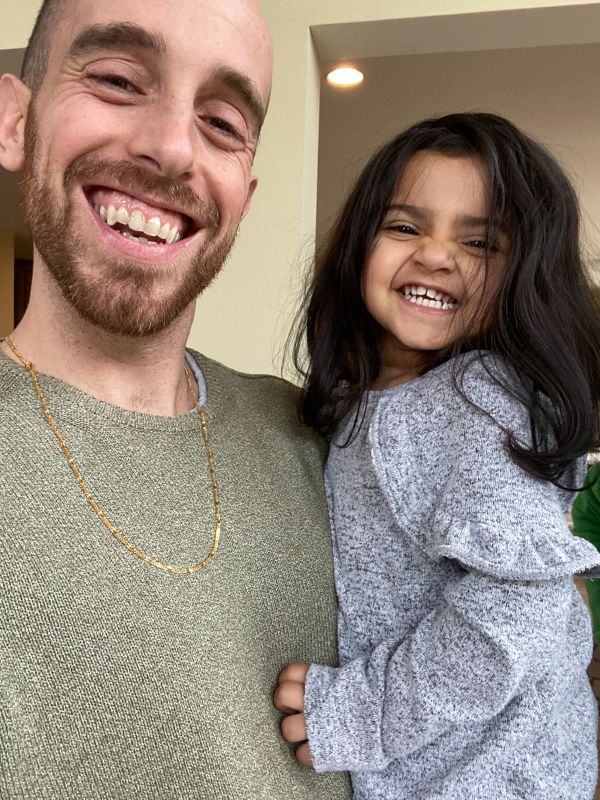 9 / 12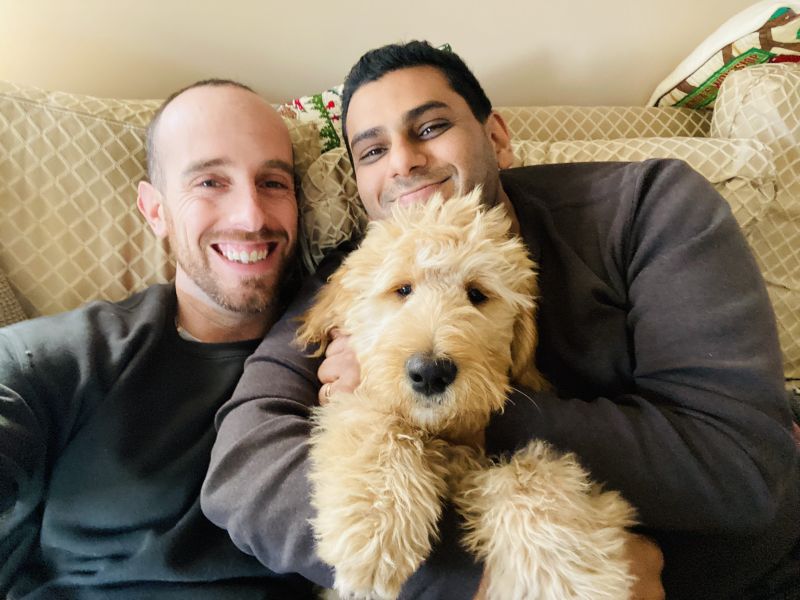 10 / 12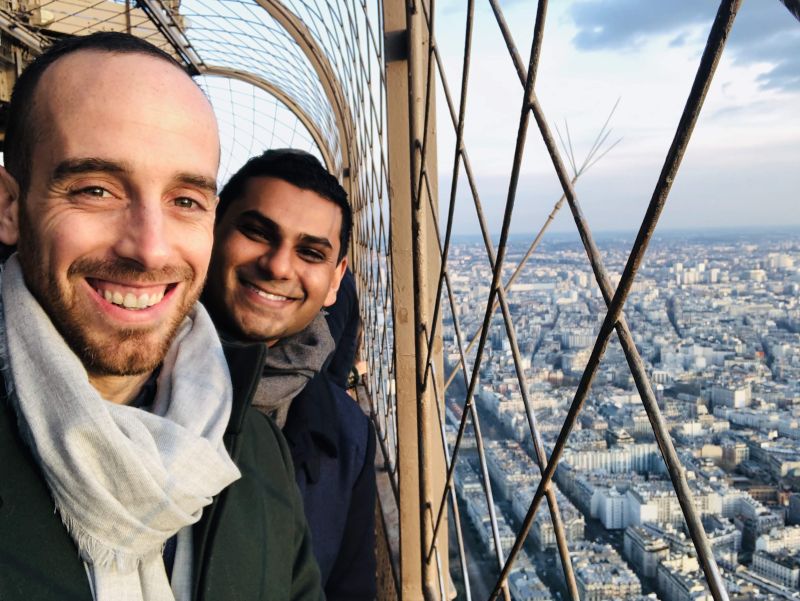 11 / 12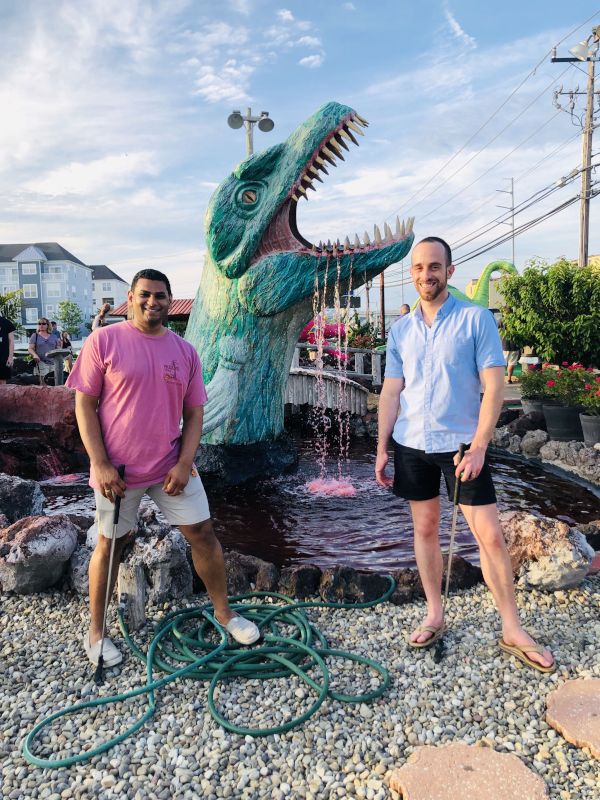 12 / 12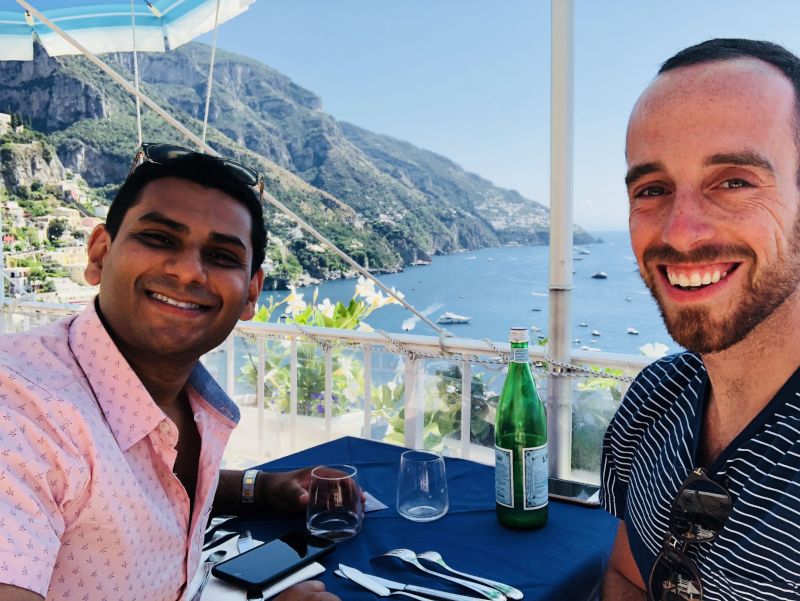 ❮
❯
Our Extended Families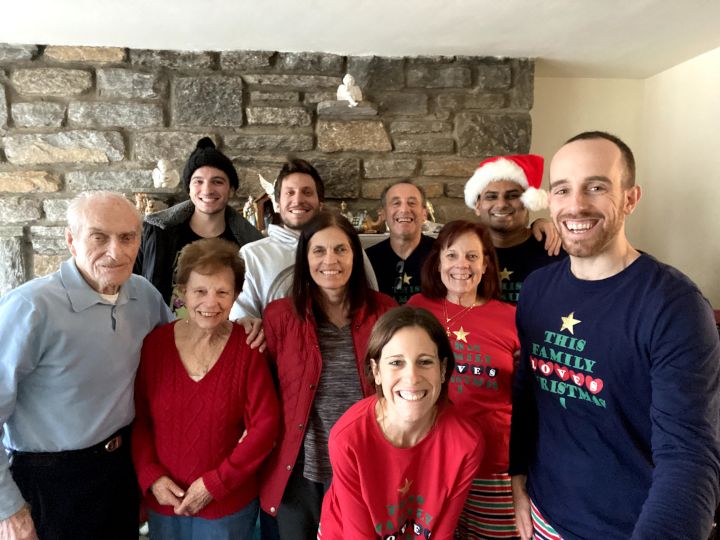 Family is the single most important priority in both of our lives. It is a value that was a large reason we married one another. Many of the awesome annual traditions we share with our families fall on holidays. We spend Christmas with Kyle's family, sticking to traditions like watching "It's a Wonderful Life," the cousins' cookie decorating contest at Aunt Susan's and PJ breakfast and opening gifts at Grandma's!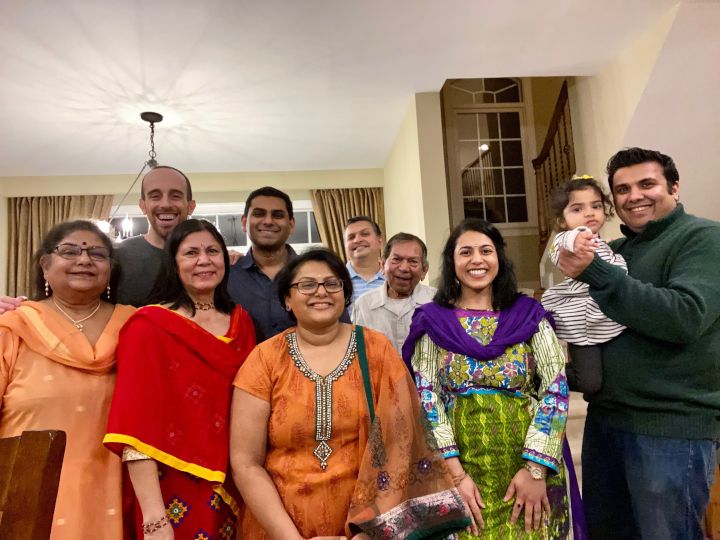 We spend Thanksgiving with Avi's family in Michigan, cooking a big feast for all the neighbors, baking Avi's Mom's Birthday Cake, and going to the Cider Mill for fresh donuts! Around July 4th, we get both of our families together at Avi's sister's place in Virginia's countryside, for BBQ, fireworks, and late-night s'mores. Each August, we also take one BIG vacation with Kyle's family either going to Italy or visiting a new country learning about the people, the places, and most importantly the food! Throughout the year we also regularly spend time with our families. Avi's sister and cousin live close by and we usually visit our adorable 3-year-old niece Ria every Sunday for a playdate. Seeing her smile and begging us to play hide and seek will brighten up any day of ours. Kyle's family is only a 2-hour drive away in Philadelphia, which makes for nice weekend getaways. We feel so blessed to have such supportive, loving, and caring families and we know they will be there every step of the way with our child.
Our House and Neighborhood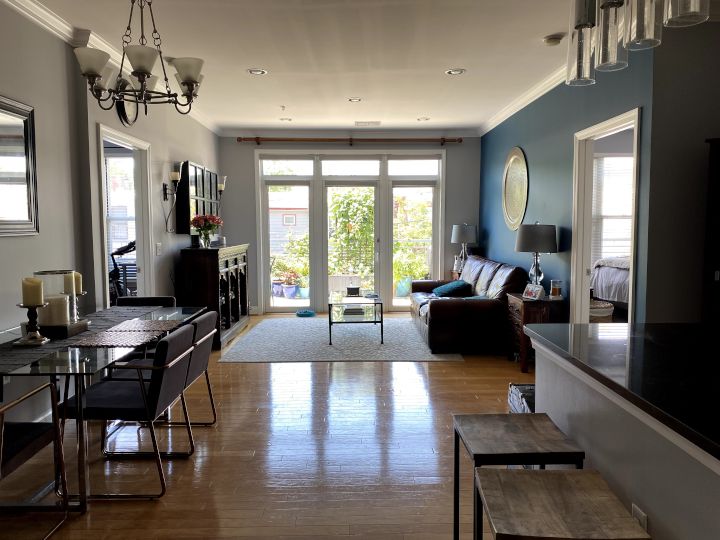 We live in Capitol Hill, Washington, D.C. (on Pennsylvania Avenue!) an incredibly active, diverse, close-knit community filled with young families. We are steps away from museums, which feature new educational exhibits each month. We often take long walks to see the majestic monuments and participate in the many events the city offers such as Zoolights at the National Zoo, dance classes at the Gymboree, musical plays at the Kennedy Center, or swim lessons at one of the 30 pools. We like to go hiking within the 14 parks or along the 50-mile trail! There are tons of amazing smaller parks and a newly built playground only 2 blocks away! We live in a lovely condo building across from an elementary school that provides great amenities (gym, massive courtyard, play/TV room) and added safety with a 24/7 doorman.
We have a large, comfortable 2-bed, 2-bath home with an expansive patio that we love making into an outdoor oasis. A regular scene is one of us cooking up dinner in the kitchen while the other is playing with our dog or watching sports in the Family Room. We have a grocery store in our building, but also buy fresh fruits and vegetables at the local Eastern Market or pick up fresh seafood at the Fisherman's Marina. Our neighbors all have young kids and we are excited about our child's instant-friends! We feel so lucky to be in a city that has such a strong sense of community and we love calling this home.
From Us to You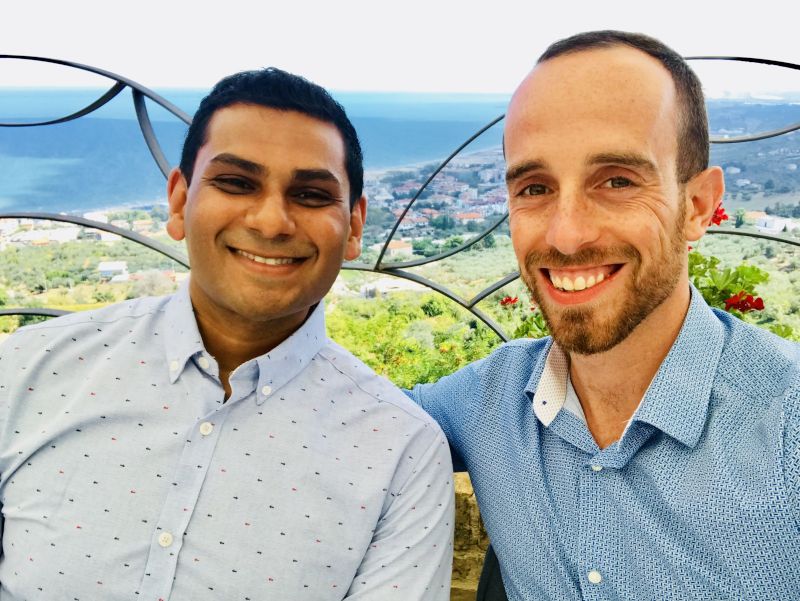 We'd like to start by saying we hope that you feel supported and loved no matter where you are in your journey and we admire your strength and courage. We wish you nothing but the best as you progress through your pregnancy.
As we write this letter our hearts are pounding with excitement and emotion, so here is a little bit about us. Avi grew up in a warm and supportive Indian family in the Midwest. He is a Management Consultant but don't for a second think that he is all business. He's incredibly positive, fun-loving, organized (very, very organized) and warm-hearted and yes, he's still 100% a Mama's boy at heart. You will often find Avi outdoors on a hike, reading, in the garden, or spending time with his friends ?" he is not one to sit still! Kyle grew up in a loving Italian family on the East Coast. He is a Marketing Leader, who is creative, extremely passionate (largely due to his Italian roots), goofy, and naturally opinionated. Kyle is athletic and loves staying active by either working out or playing soccer. He is the chef between the two of us and can cook up gourmet meals in a matter of minutes! We met online over 10 years ago and after 2 whole years of Kyle saying 'no' to a date, we have now been happily together for the past 8 years! We got married 2 years ago at our big, fat, Indian-Italian wedding, surrounded by our closest family and friends. We are the 'ying' to each other's 'yang' and just writing this makes us both smile because it all works so beautifully.
Of course, in addition to all of that, the most important thing to know about us is our values. Both of us have immigrant parents who left their homes in India and Italy when they were young to build a better life for themselves and their eventual families. They are still our heroes today and have instilled in us the power of education, believing in ourselves, respect, hard work, and caring for others. We intend to use these same values as we build the foundation for raising our children.
Equally important, we plan to enrich our child's life with meaningful experiences and traditions that will build them into amazing human beings. Exploring our child's strengths through different sports, music lessons, dance classes, and anything else they'd like to try, is something we are so excited about. Some of the traditions we plan to have as a family are always eating dinner at the table together, taking family vacations to new countries, and having a family night out on Saturday nights. Overall, our main philosophy in raising a child is to give them all of the love, joy, and opportunity in the world and for them to be HAPPY. We are willing to do whatever it takes to make that happen.
We know that you too have love and joy to bring into your child's life that we would love to fully embrace. We promise to respect you and whatever level of openness that you want to have with your child (annual visits, calls, texts, emails). We also plan to include you, your love, and your strength in the child's birth and adoption story. We believe it will be incredibly important to openly communicate and normalize your child's adopted upbringing to give them the most comfort possible as they grow up.
We promise to cherish and love your child with our whole hearts and souls and will provide a safe, happy, home with every opportunity imaginable. Most importantly, your child will always know that they have our support and are loved unconditionally. We couldn't feel more thankful for the opportunity to adopt. We hope this profile gave you a glimpse of who we are and who we will be as parents. Thank you so much for taking the time to read it.
All Our Best,
Avi & Kyle
Favorites
Actor
Tom Cruise
Leonardo Dicaprio
Actress
Sandra Bullock
Charlize Theron
Animal
Our dog Koko!
Love panda bears but have to say our dog Koko!
Author
J.K. Rowling
Malcolm Gladwell
Book
The 7 Habits of Highly Effective People
Delivering Happiness by Tony Hsieh
Candy Bar
Snickers
Dark Chocolate Kit Kat
Cartoon
G.I. Joe: A Real American Hero
Disney's Recess
Childhood Memory
Building snowmen in our backyard with my sister.
Playing crazy games with my sister in the yard and pulling her around in the wagon.
Childhood Toy
Remote-controlled car that my dad got for me from Japan!
Robin Hood playset that had a whole forest with trap doors and action figures.
Children's Book
Dr. Seuss books!
Chicka Chicka Boom Boom
City
Venice, Italy
Paris, France
Classic Movie
Stand by Me
It's a Wonderful Life
Day of Week
Friday because it's the weekend!
Thursday because the weekend is right around the corner!
Dessert
I love ALL desserts, but if I had to choose then Chocolate Cake!
Cheesecake!
Disney Movie
The Lion King
Aladdin
Dream Car
Lamborghini
Porsche Panamera
Dream Job
Director of the World Health Organization
CMO at a Fortune 100 Brand
Dream Vacation
Relaxing week in the Maldives
Bora Bora or the Seychelles!
Family Activity
Family picnics at the beach
Playing rummy the card game on the deck outside.
Flower / Plant
Red roses- my dad used to plant them every summer!
Our gorgeous morning glory vine with purple flowers that explodes across our patio each summer.
Food
My Mom's chicken tikka masala
Chickfila Spicy Chicken Sandwich Meal
Form of Exercise
Spin Bike
Lifting Weights
Holiday
Christmas
Christmas
Holiday Song
White Christmas
All I Want for Christmas Is You
Holiday Tradition
Cooking Thanksgiving dinner with my family
Christmas morning breakfast at grandmom's house.
Ice Cream
Mint Chocolate Chip
Dark Chocolate
Junk Food
French Fries
BBQ Chips
Leisure Activity
Reading
Reading
Magazine
Men's Health
Esquire
Memory with a Child
Holding Ria, our niece, for the first time while she was screaming and crying.
Recently hanging out with our 3 year old niece Ria, while Avi was filming our video profile we were sitting outside enjoying nature and she turned to me and said "I love spending time with you." My heart never melted so fast.
Memory with Spouse
Our Wedding- loved every second of it!
Our trip to Paris last year. It was such a magical and unexpectedly incredible week together.
Movie
A Few Good Men
Mean Girls
Movie Munchie
Kettlecorn popcorn
Popcorn extra salt!
Movie Quote
Apollo 13: "Houston, we have a problem."
It's a Wonderful Life: "What is it you want, Mary? What do you want? You want the moon? Just say the word, and I'll throw a lasso around it and pull it down."
Musical Group
Green Day
Destiny's Child
Nursery Rhyme
Twinkle Twinkle Little Star
Row Row Row Your Boat
Olympic Event
Figure Skating
Ski Jumpinig
Personal Hero
My Parents
My Dad
Play
The Nutcracker
Annie when my little sister was in the cast in high school!
Poet
Maya Angelou
Walt Whitman
Quality about my Spouse
How much he cares for me and makes me feel so special
Even after 10 years, every time I see Avi smile my heart skips a beat.
Quote
Charles R Swindoll: ".. I am convinced that life is 10% what happens to me and 90# how I react to it."
Theodore Roosevelt "It is not the critic who counts; not the man who points out how the strong man stumbles, or where the doer of deeds could have done them better. The credit belongs to the man who is actually in the arena.."
Restaurant
Local Turkish/Middle-eastern restaurant that has the best dips!
Local Thai restaurant nearby that serves the most unreal crispy duck!
Sandwich
Grilled Cheese
Italian sub with lettuce, tomato and pickles
Scripture
Bhagavad Gita: "Man is made by his belief. As he believes, so he is."
Joshua 1:9 Have I not commanded you? Be strong and courageous. Do not be afraid; do not be discouraged, for the LORD your God will be with you wherever you go.â??
Shopping Store
Costco
Trader Joe's or Target
Song
Iris by Goo Good Dolls
Crazy in Love by Beyonce
Sport to Play
Tennis
Soccer
Sport to Watch
College Football
Football
Sports Star
Michael Jordan
Kobe Bryant
Sports Team
Michigan Wolverines
Philadelphia Eagles
Subject in School
Math
Math
Thing to Cook
Pumpkin Bread
Lasagna
Time of Day
Late-nights when everyone is asleep
Early morning just before everyone wakes up.
Tradition
Birthday Cake Celebration
Pizza Night Fridays!
TV Show
Right now: Game of Thrones, All Time: Seinfeld
Right Now: Succession, All Time: The Office
TV Show Character
Seinfeld: Elaine Benes
Jerry Seinfeld or Michael Scott from The Office
Type of Music
Alternative
Pop
Video Game
Mario Brothers
Fortnite
Get in Touch
Provide more information, so American Adoptions can connect you with this family.
---