1-800-ADOPTION
Thank you for viewing our profile
If you would like to learn more about us, please call 1-800-ADOPTION (2367846), fill out the form at the bottom of our on-line profile page, or email us at bp_information@americanadoptions.com.
To revisit our on-line profile page and view our profile video at American Adoptions, simply use your mobile phone to scan the QR code on the right. We are looking forward to hearing from you!
Jay & Tom
There's no one right way to be in life. We were lucky to have had families that made us feel loved and encouraged us to grow, be authentic, pursue the lives we wanted, and build a home together. Now the best thing we can think of to do is to provide those same opportunities to a child, and we are so grateful to you for taking the time to share your story and consider ours.
About Us
Job
Mental Health Counselor
Neurophysiologist, National Quality Director
Education
Master's Degree in Clinical Mental Health Counseling
Master's Degree in Biomedical Engineering and Applied Math
Relationship
Legally Married
What It Means to Become Parents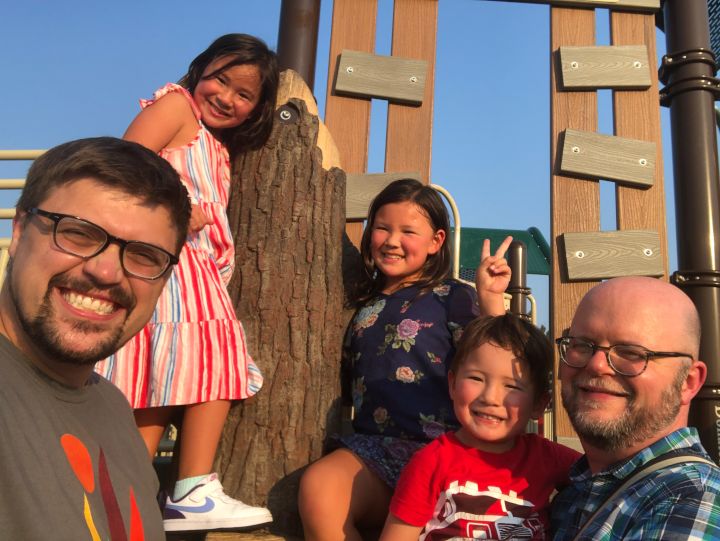 As a couple of gay guys, we recognize how lucky we are to have had parents in childhood who loved us completely and unconditionally and empowered us to pursue happy and purposeful lives. We can't think of anything better to do with our love, time, and resources than to support the health, happiness, and dreams of a child.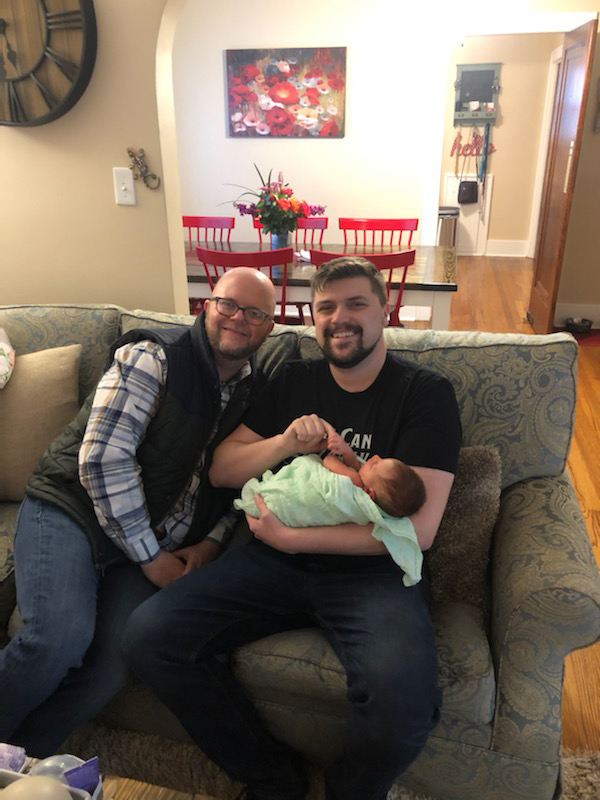 But we also just really like kids. We have many life-long friends with children anywhere from a few weeks to ten years old, and watching those kids become aware of their surroundings, learn to move and communicate, develop emotionally, have fun and develop relationships with other kids, and learn to think critically all just seems miraculous and beautiful to us. We are a couple of world-explorers; we love traveling, exploring new ideas, and developing new hobbies and skills, and we can't wait to instill this love of the world in our kid.
Qualities We Love, Admire and Respect in Each Other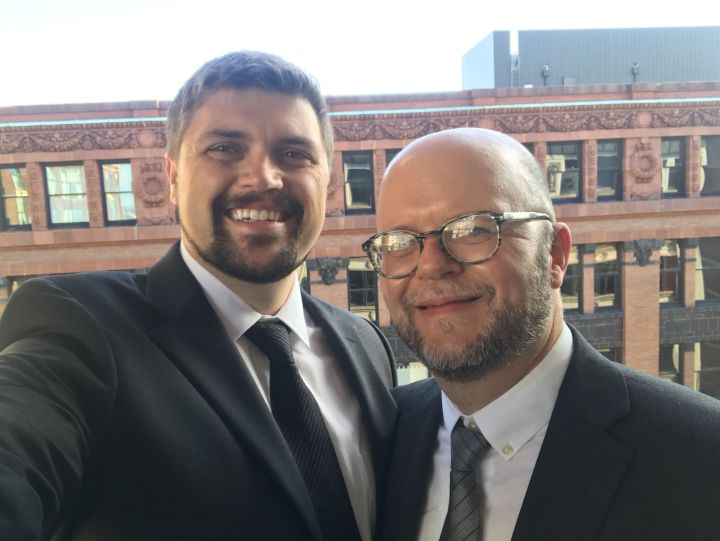 Jay About Tom: Tom is the person in our household that makes living life special by taking the ordinary and turning it into extraordinary. He has a creative spark that allows him to be focused on the possible and then the engineering mind to know how to complete a task. This comes through in simple everyday ways such as what to make for dinner or how to repair a faucet not working, to complex projects like designing and constructing our backyard oasis. He's also a person with immense curiosity and love of the arts, which shows up in a range of talents (he plays three musical instruments, is a relentless gardener, and works on projects in glass, wood, and leather in his free time).
Tom About Jay: Jay is a logistical powerhouse. He's our "command central," reaching out to family and friends we haven't seen in a while to plan an evening together, coordinating schedules, keeping us on budget, making sure we stay well-stocked. When Jay says he'll do something or be somewhere, he absolutely will; he's the most reliable person I know. He's also incredibly concerned for the happiness and well-being of others; nobody I know gives as much of their time and attention making sure the needs of others are met.
Cultural Diversity
Exploring and valuing all cultures is more than just a "nice idea" to us. As members of the queer community, as members of multi-racial and multi-cultural families, and as active community leaders of a neighborhood that is rich in racial, ethnic, and cultural diversity, we couldn't navigate our lives with love and appreciation for those around us without embracing the aspects of culture that shape their experience.
Because of that, we will be a family that continues to grow in the understanding and appreciation of all cultures. Our kid will absolutely go to schools where they will be surrounded by peers with a diversity of cultural heritage, and where they feel included and valued for their story. When we read together, we will choose books that make our child feel seen. When we travel together, we will visit places that expand our child's sense of their place in the world and make new relationships and ways of thinking feel accessible.
Photos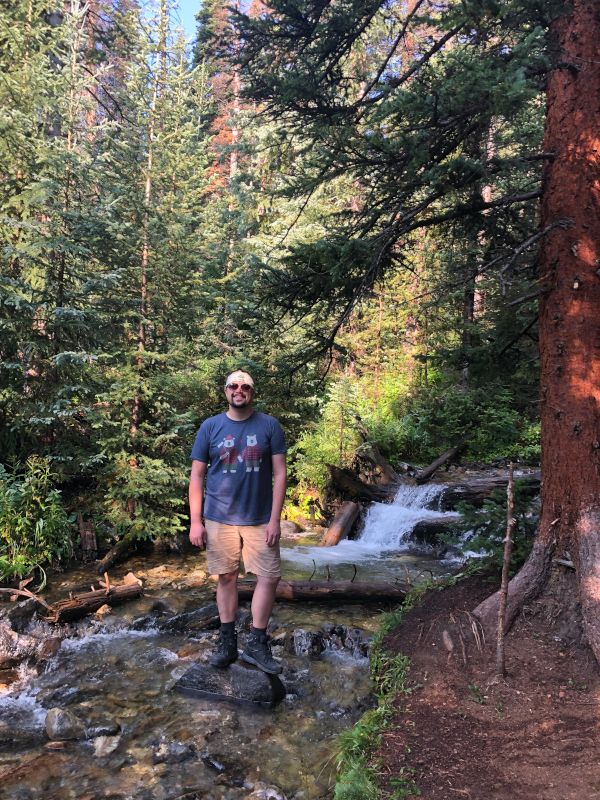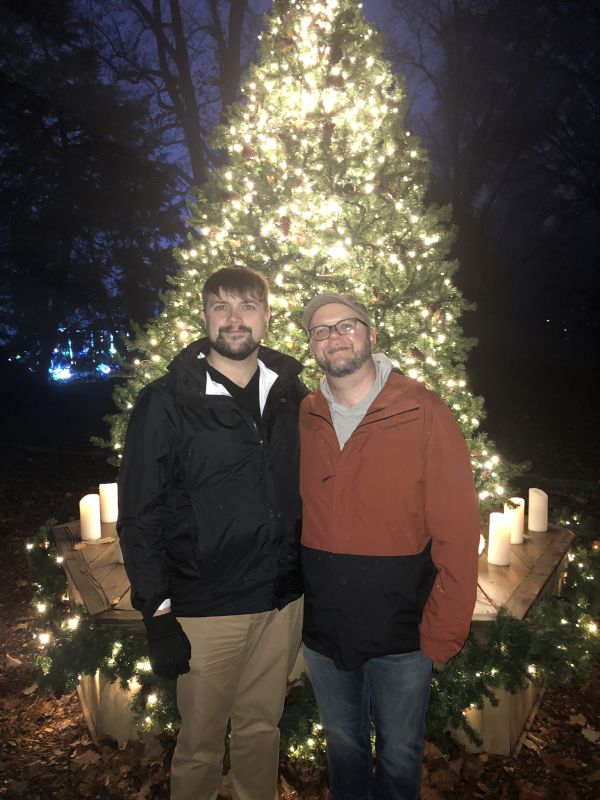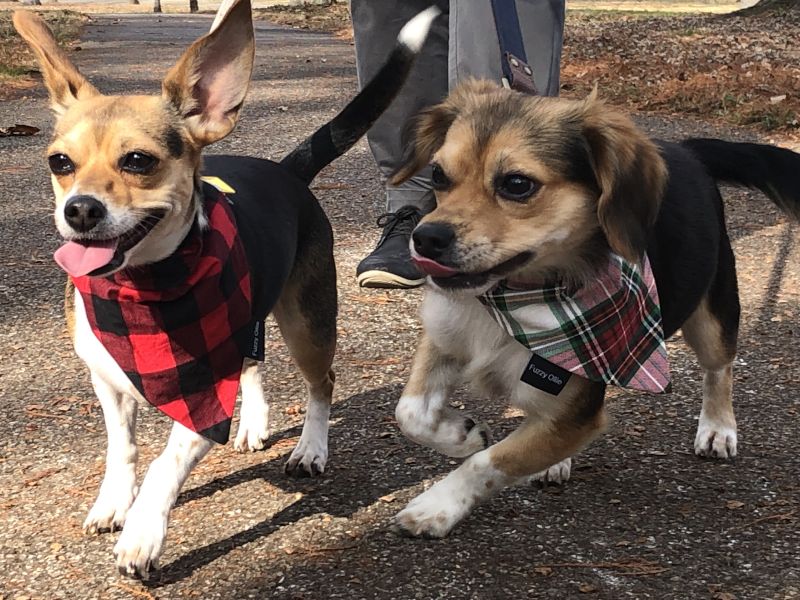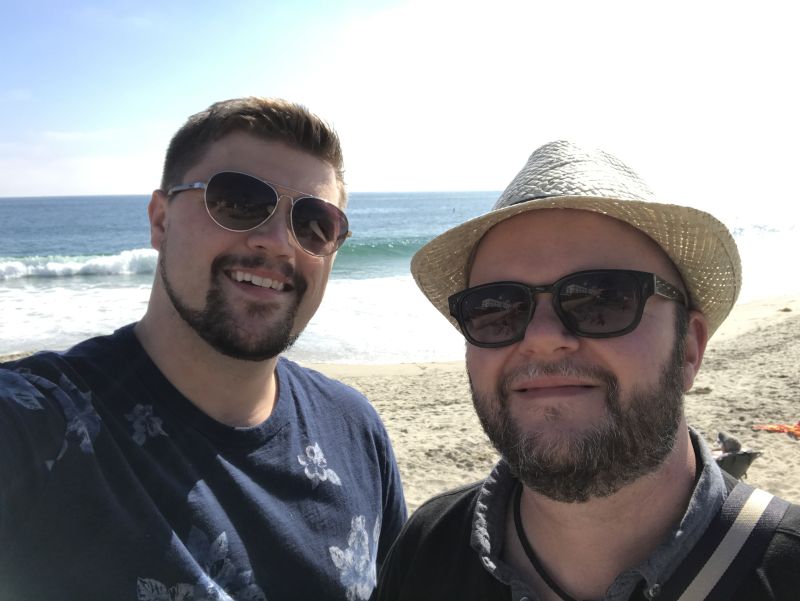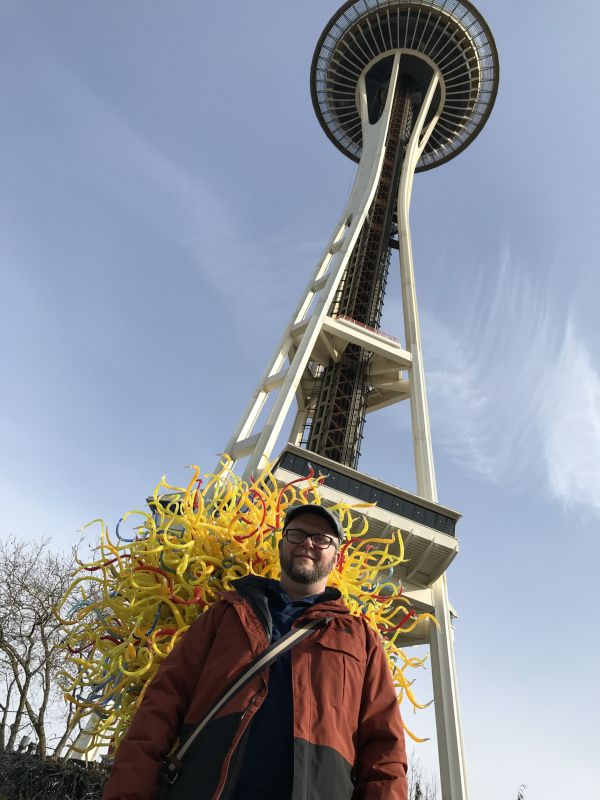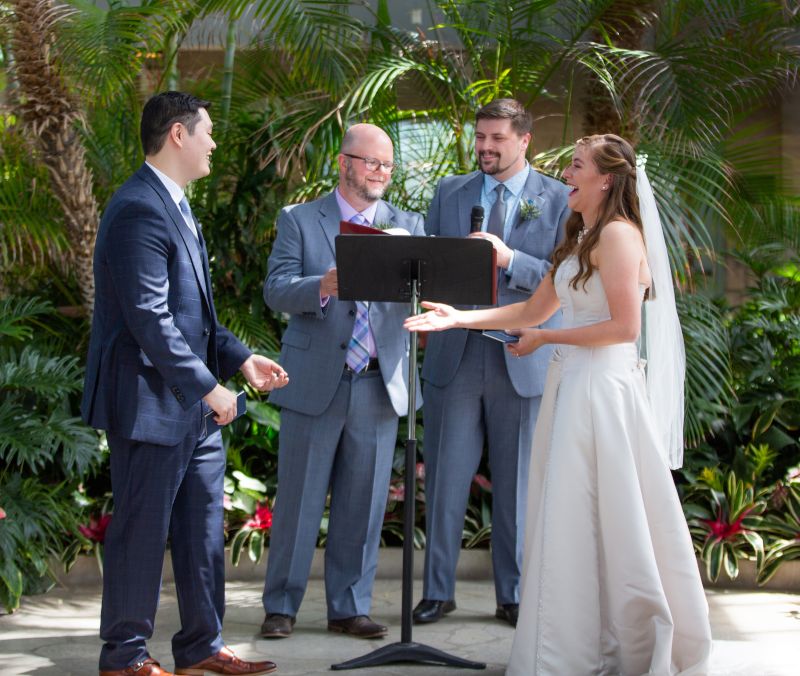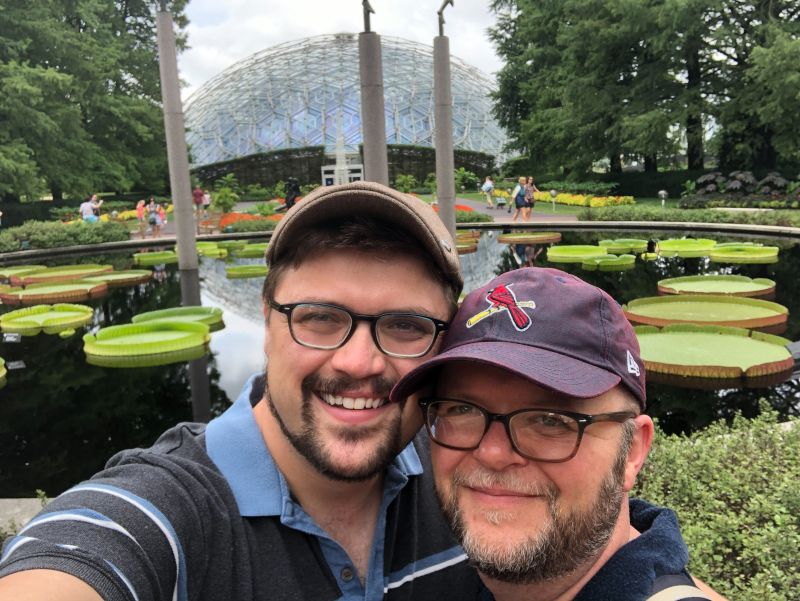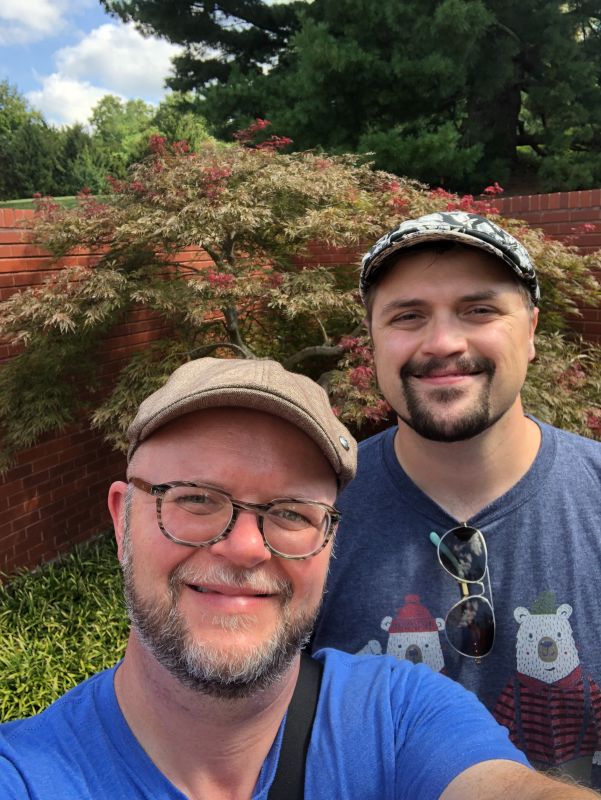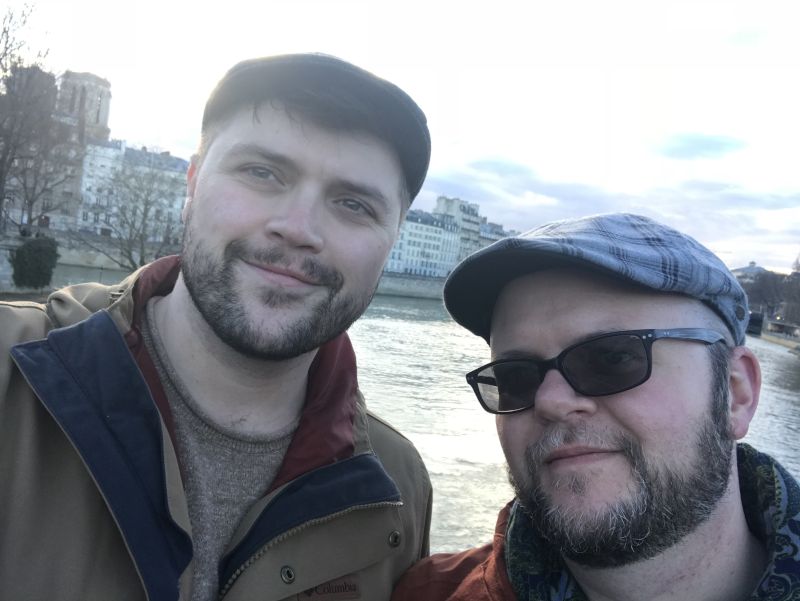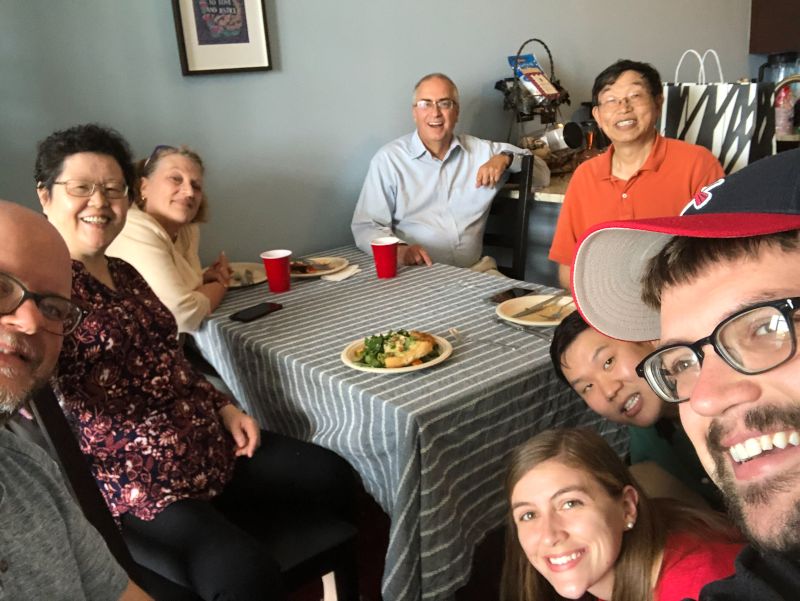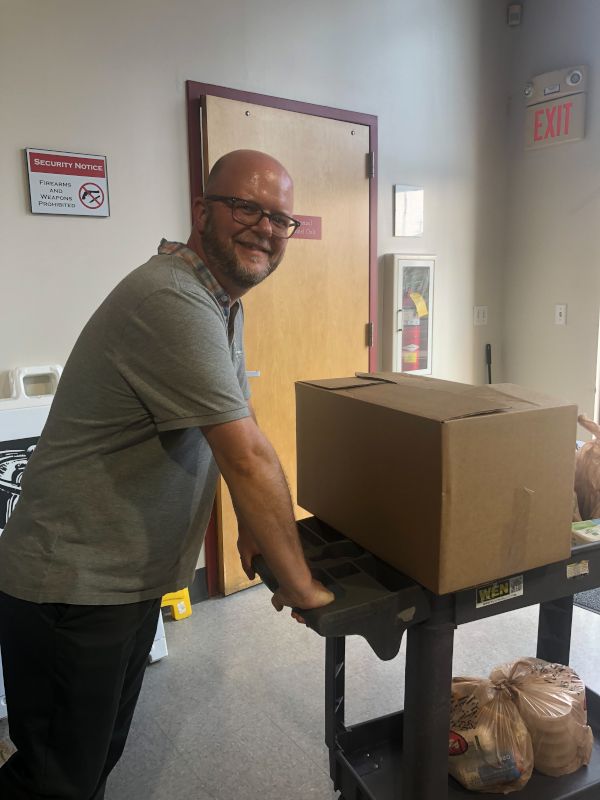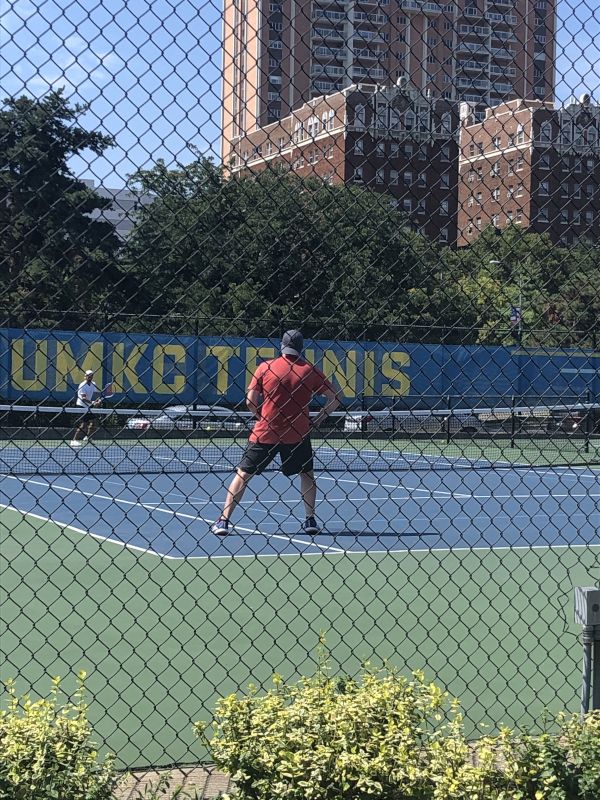 ×
1 / 12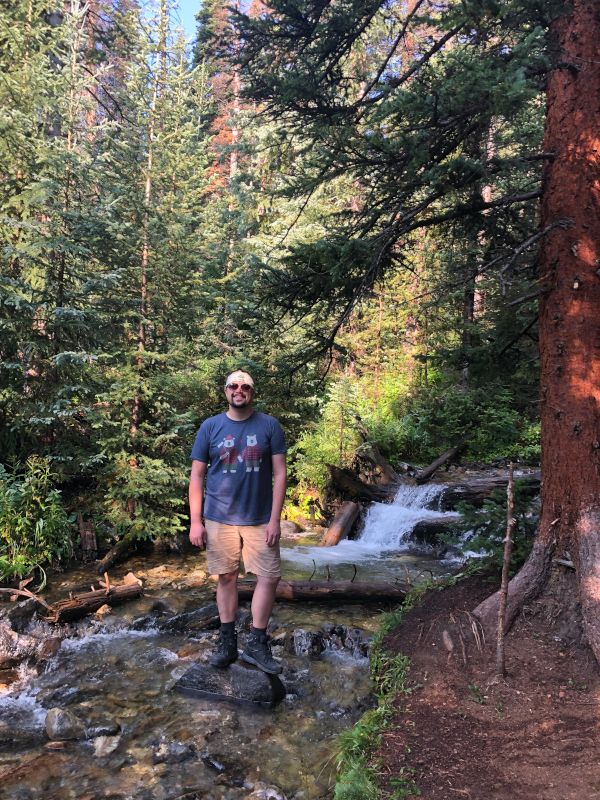 2 / 12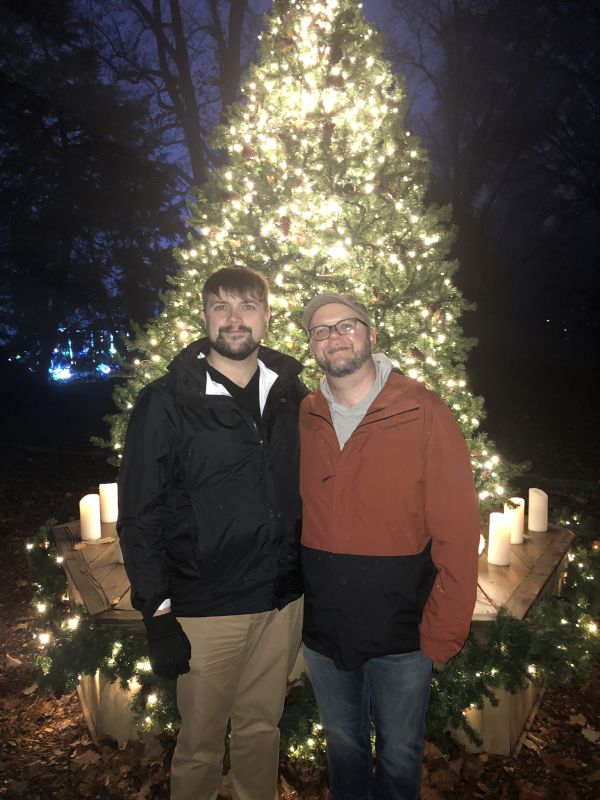 3 / 12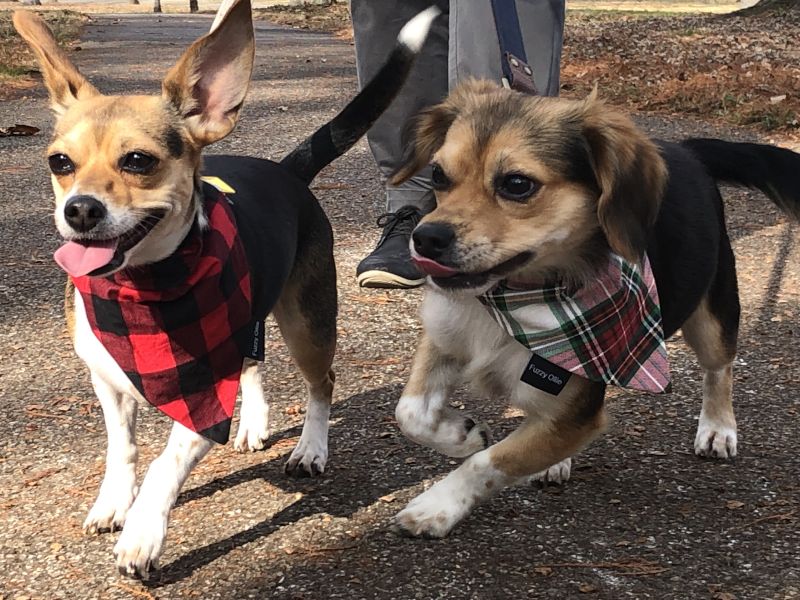 4 / 12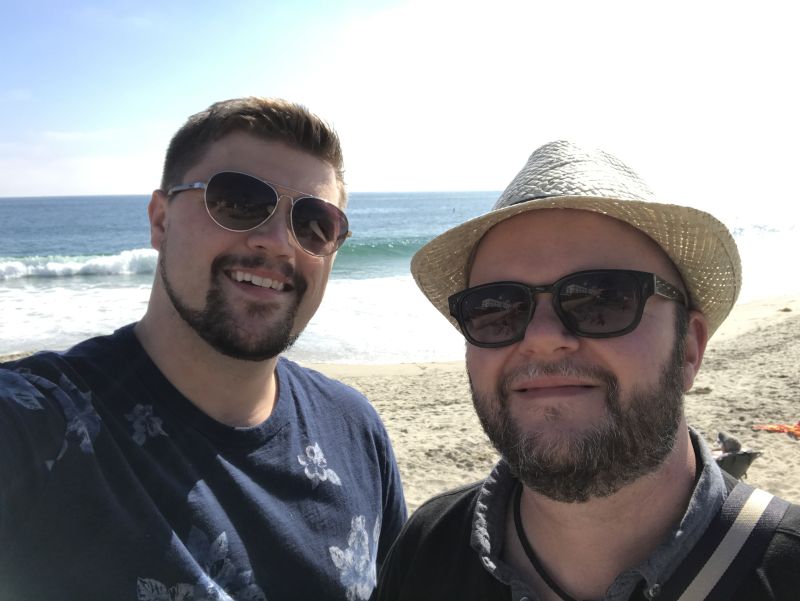 5 / 12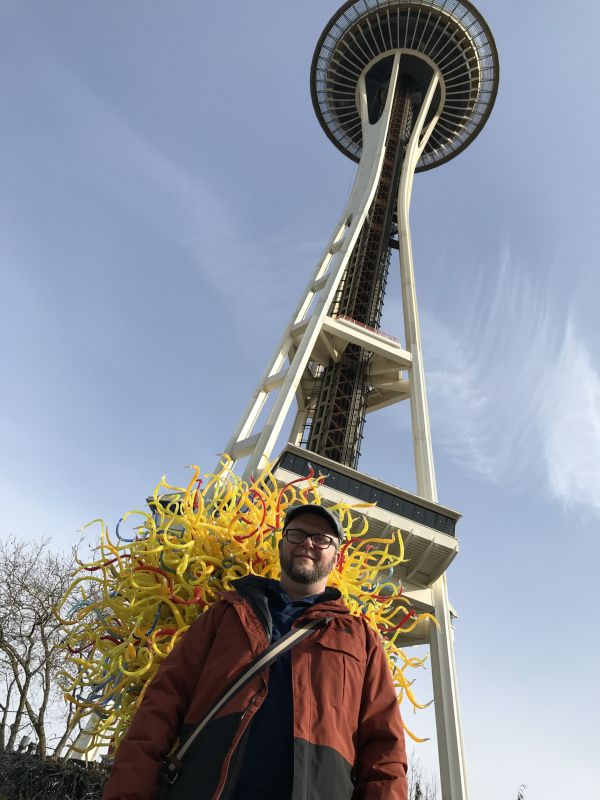 6 / 12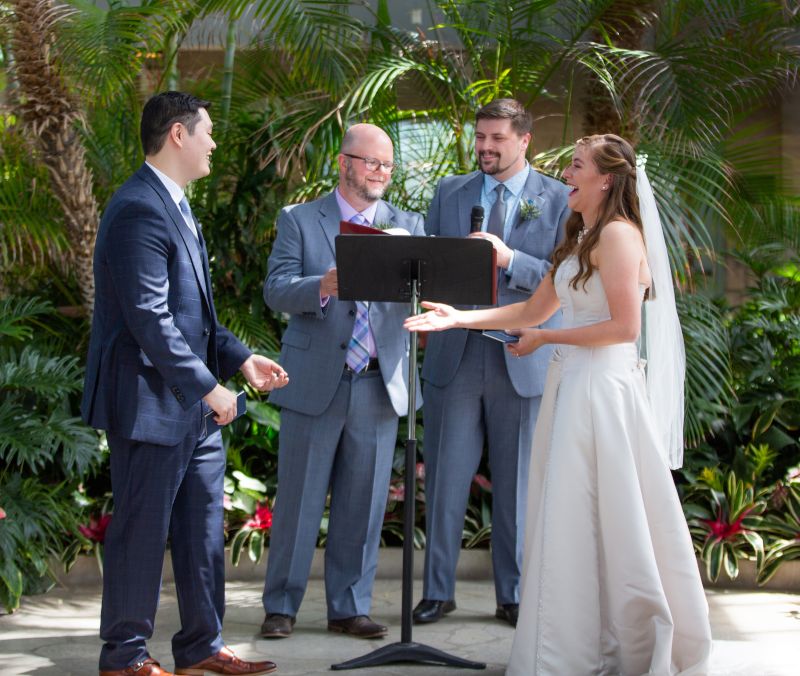 7 / 12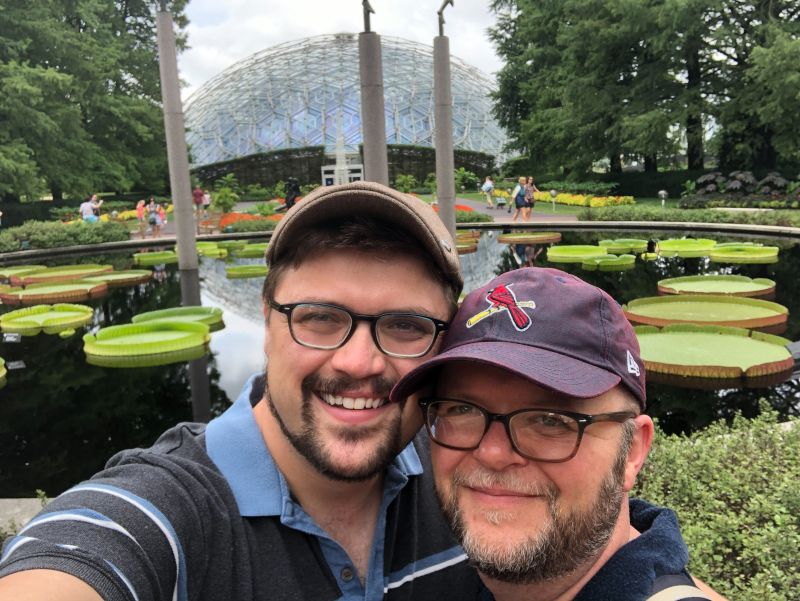 8 / 12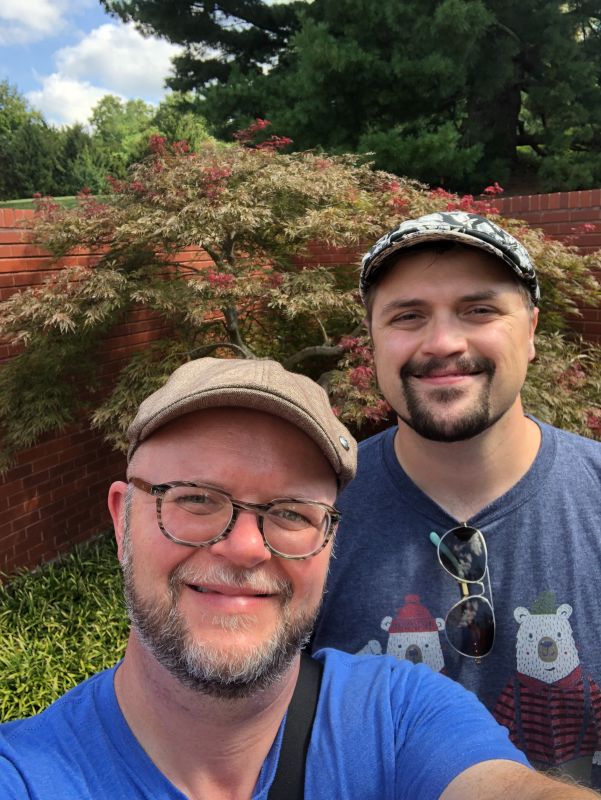 9 / 12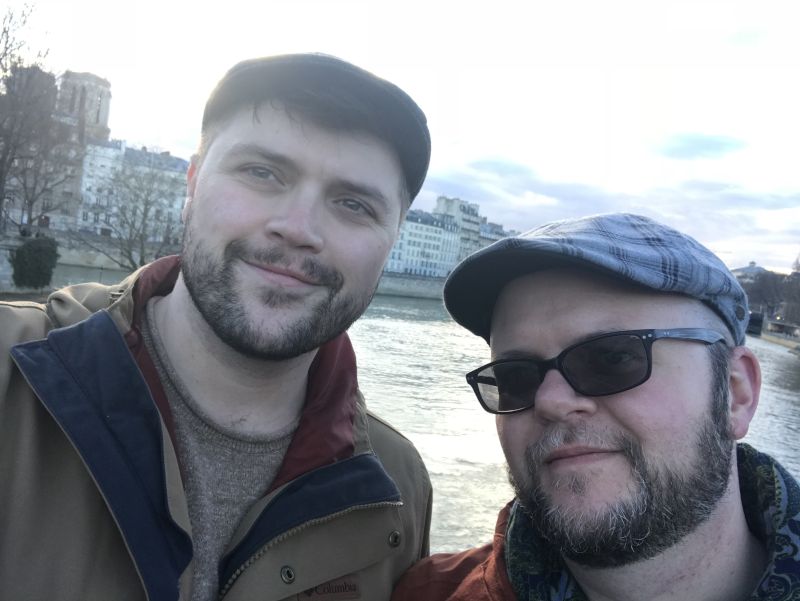 10 / 12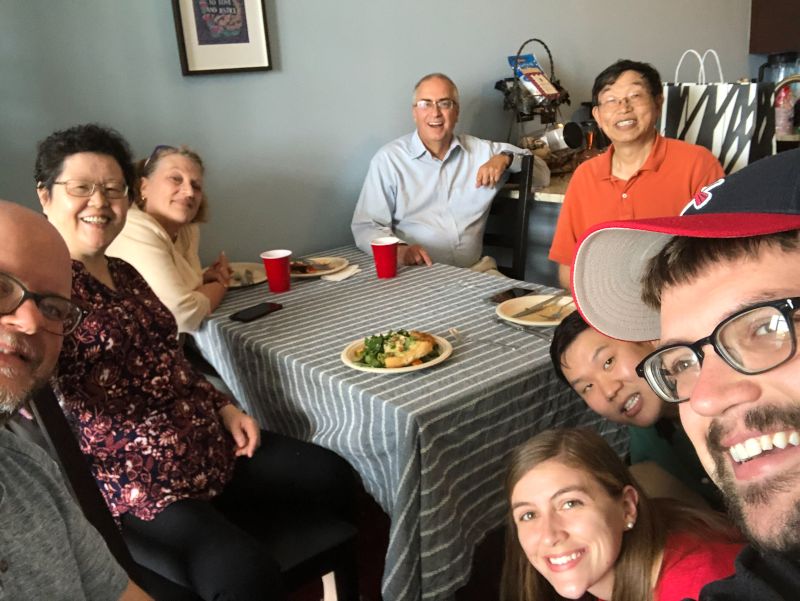 11 / 12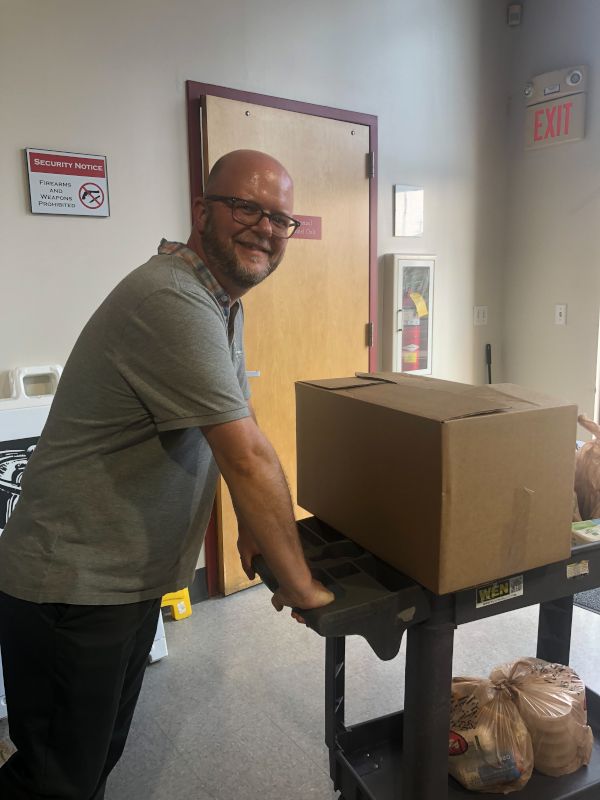 12 / 12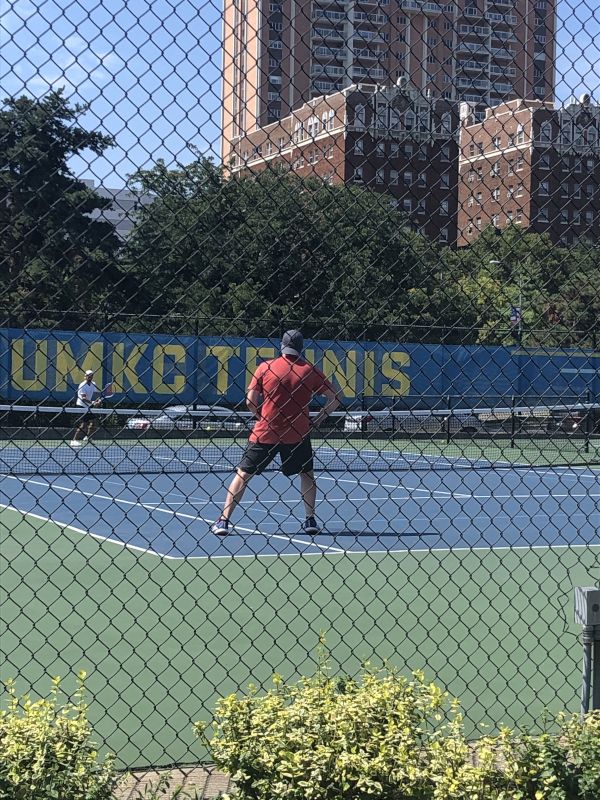 ❮
❯
Our House and Neighborhood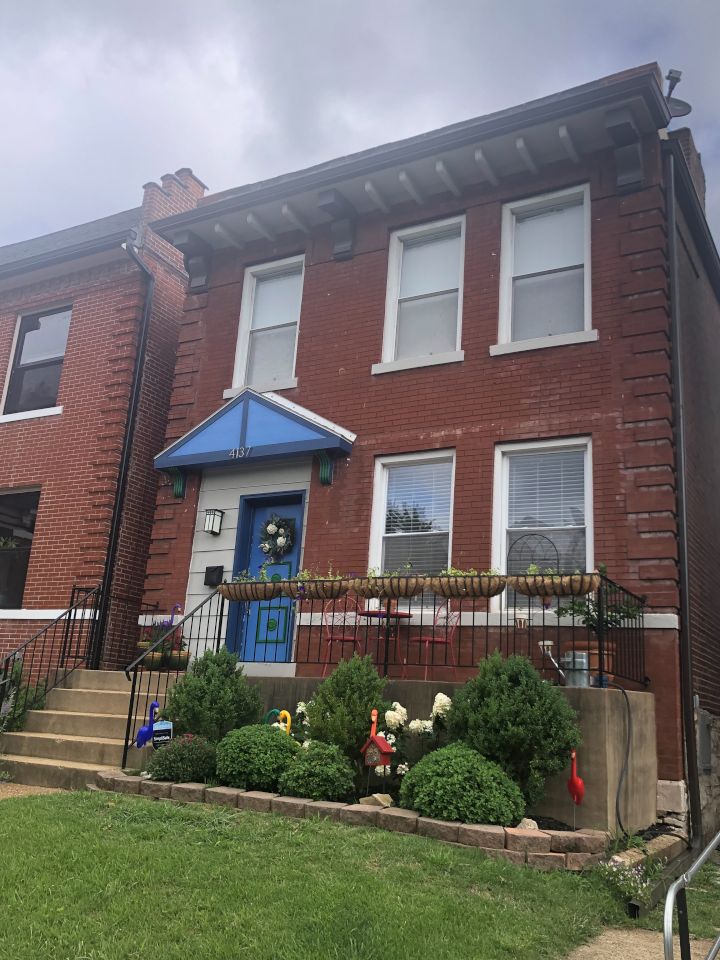 Our home is a 1908 two-story brick craftsman in the heart of one of the most historic neighborhoods in Missouri. It's definitely a "project house;" from the masonry to the plaster to the roof to a complete overhaul of the backyard, we have been making the house our home one piece at a time. It's a small price to pay to be a part of our community, though, because we are regularly described as one of the best places in the country to start a family. Within ten minutes of our house, we have easy access to two enormous, beautiful, and event-packed public parks, a botanical garden with a dedicated children's play garden and water park, one of the best zoos in the country, The Magic House and The City Museum (two giant indoor playgrounds that are a kid's dream), a science center and planetarium, free art and history museums, and (most importantly) the birthplace of frozen custard.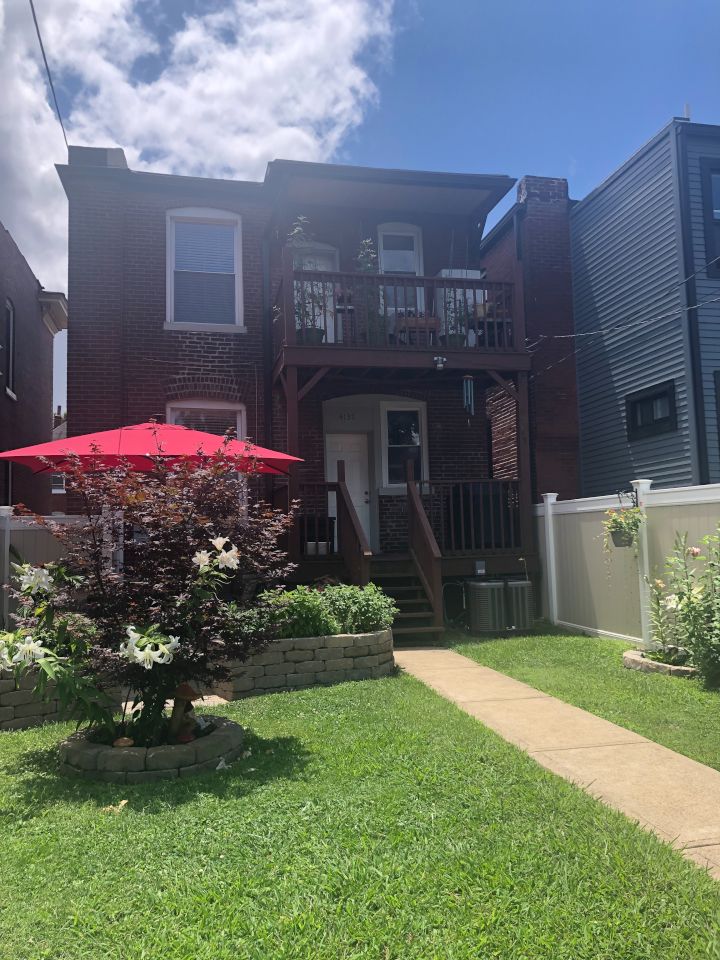 Our community also puts the importance of all of its constituents front-and-center with a ton of family-friendly festival celebrations throughout the year. The park a few blocks away from our house holds our Festival of Nations, Historic Art Fair, Pride, Farmers' Market, and Food Truck Friday Picnics. The botanical garden a block away hosts a Summer Music Festival, Japanese Cultural Festival, and Chinese Culture Days. It's easy to understand why so many of our friends with kids have chosen to lay down roots here!
Our Extended Families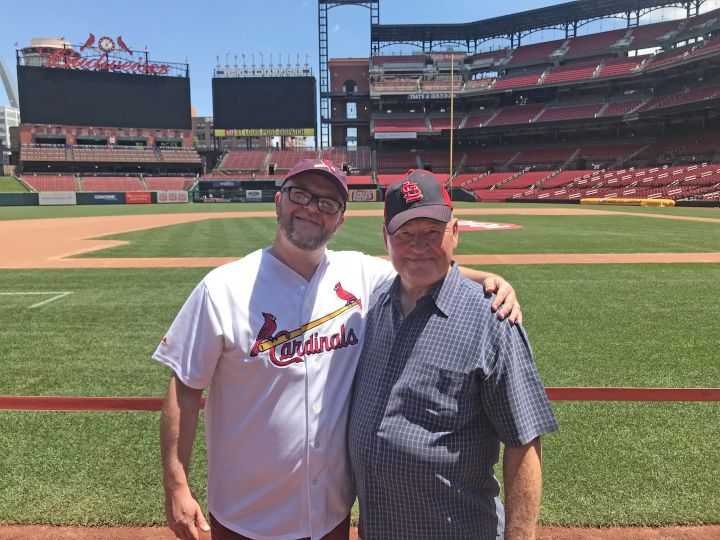 We are so lucky to both have large, local, supportive extended families in and around the city where we live. Tom's parents live ten minutes away, and we see them for a dinner-and-games-night most weeks. Tom got his love of teaching, philosophy, and math from his dad Joe and his baking and caregiving passions from his mom Peggy. Tom's younger sister Julia and her husband Alex live a few hours away, but we get to visit them regularly. (We are grateful to have just officiated their wedding!) When all of Tom's aunts, uncles, and cousins get together for Christmas, Easter, or Thanksgiving, it's a packed house...around seventy people!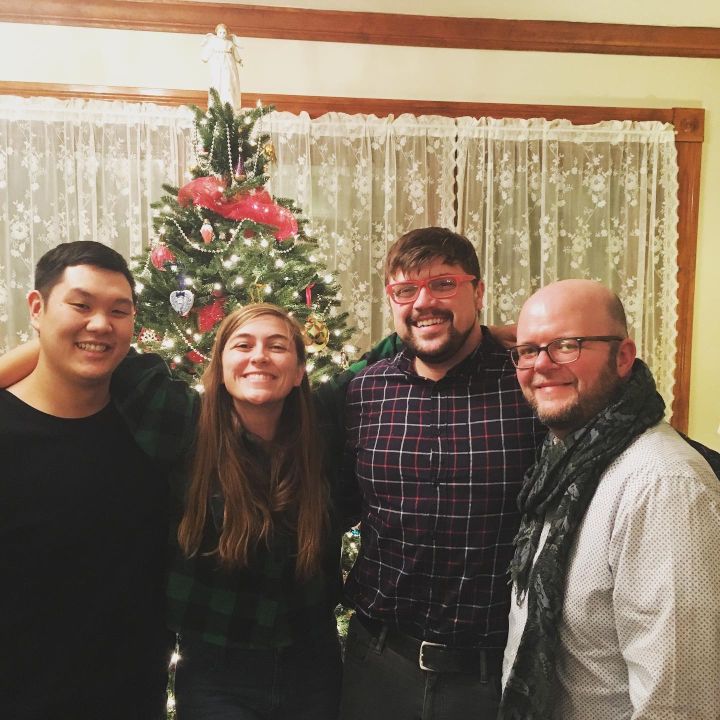 Jay's parents (Carol and Len) and his two older brothers and their families all live within a couple hours of our house. Carol has always been focused on service, whether it's through community involvement at her church or through her job in mental health rehabilitation, and Jay can see that influence on his life as he pursues his counseling career. Len is always so mindful of everyone's feelings and willing to help on a project, and we always work to uphold his generous spirit.
We also have a huge "chosen family," all of the friends that we've made from our neighborhood community. We love our neighborhood so much because of what a diverse cultural hub it is, and our lives continue to be enriched by the amazing people who have let us be a part of their families.
From Us to You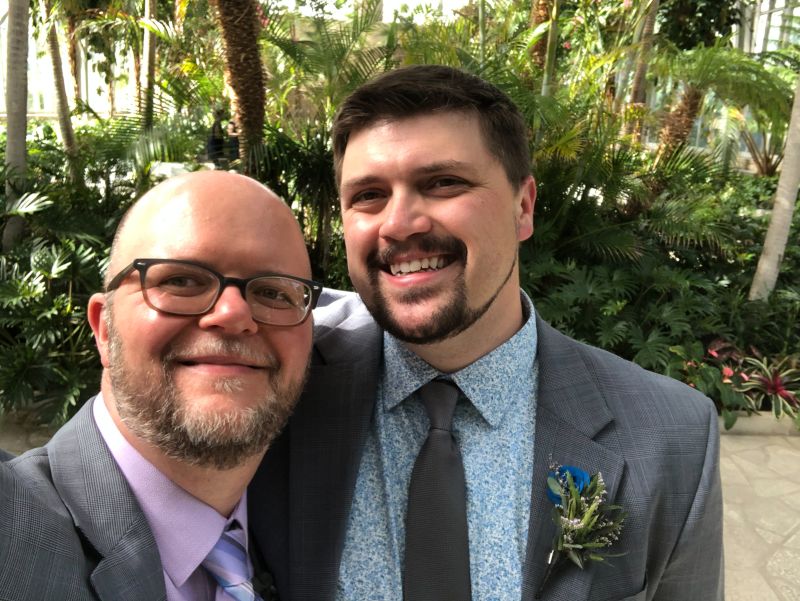 This is a strange letter to write. It's a strange letter to write because, as we don't know one another yet, we know so little about you. We do know, though, that you are thoughtful and care deeply for the wellbeing and happiness of the baby you've helped to form and carry. We know this because, just in reading this letter, you must be on a path that requires a tremendous amount of courage and reflection. We're a couple of "husbears" (that's husbands and gay bears, if you don't happen to have any of us in your life); we don't know what it's like to carry a new life through pregnancy or make the decision to share the protection of that life with another couple. But we promise you that we understand what a strong, courageous woman you are, and that we absolutely share your commitment to providing your baby with the happiest life full of love and opportunities that we possibly can.
We've been together for thirteen years, married for the last eight of them, and while both of us would deny the existence of soul mates if asked outright, we are in fact meant to be together. We figured out early that both our strengths and our flaws complement one another perfectly. Jay emanates warmth; everyone gravitates towards him because he's thoughtful, concerned, a great listener, and he believes in the importance of all people. Jay's creativity comes through in the new experiences he brings into our family; he is always ready for adventure. At the same time, he keeps us "on track," making sure that we keep up with all of our friends and relatives and managing our household logistics. Tom, meanwhile, is a quick and deep thinker. When we get together with friends or are celebrating a holiday with one of our families, Tom is the one keeping everyone laughing with his quick wit. Tom's been a teacher in many forms since he was a teenager, in part because he loves the mind, but mostly because he considers it an honor to help others grow and improve. He's never finished learning; he's artistic, strategic, and intuitive. Our friends joke that we are "the brain" and "the heart," and, while we would like to believe that we both bring some of both, we certainly do feel like two parts of one whole most days.
We know that there is no guarantee of finding happiness with a good partner in this life, all the more so for people in the queer community. So we don't take for granted how lucky we have been to find someone to rely on, to share laughter, chase dreams together, and lean on in hard times. Throughout our marriage, we've really felt like we are "enough" for one another, and we've worked hard to build a life on the opportunities we've had. We've moved through four different apartments and ultimately saved enough for a house. We've supported each other through school programs and new careers. We've cared for dearly loved ones through mental and physical illnesses. We've raised, loved, and lost one sweet little chihuahua, and that led us to rescuing our two sweet mutt siblings. We've lived; and a few years ago, we looked at one another and realized that our living was preparing us for something. It had made us more patient, easier to forgive, and kinder. It had made us care less about our things and more about our relationships and our community. It had replaced self-concern with concern for others. It was preparing us for fatherhood.
Dear Birth Mother, you are always going to be your child's mother. The love you feel for your baby is special and irreplaceable; but there's no limit on how loved and supported a child should feel, and these two husbears are ready to do our part to add to that love. We can only imagine what goes into a decision like the one you are making. Please know that we appreciate you, we respect your role in this child's life, and we will remain happy to support whatever degree of openness feels right to you.
With sincere gratitude,
Jay & Tom
Favorites
Actor
Bradley Cooper
Matt Damon
Actress
Amy Poehler
Tina Fay
Animal
JJ the Chihuahua
JJ the chihuahua
Author
David Sedaris
Garth Nix
Book
Great Expectations
Me Talk Pretty One Day
Candy Bar
Payday
Hershey with Almonds
Cartoon
Calvin & Hobbes
Calvin and Hobbes
Childhood Memory
Waterparks with my cousins
Christmas morning breakfast!
Childhood Toy
Hotwheels
Lego
Children's Book
The Bearenstain Bears
The Lorax
City
Florence, Italy
Florence, Italy
Classic Movie
The Sound of Music
Bladerunner
Day of Week
Saturday
Saturday
Dessert
Pumpkin Roll
Strawberry Ice Cream!
Disney Movie
Moana
The Hunchback of Notre Dame
Dream Car
Mini Cooper
Not really a car guy, happy with my Rogue
Dream Job
Mental Health Counselor
Teaching math
Dream Vacation
Train trip through Europe
Japan
Family Activity
Badminton
Walking through the park and botanical gardens!
Flower / Plant
Christmas Cactus
Stargazer lilies and mint
Food
Any type of pasta
Sourdough bread
Form of Exercise
Jogging or Yoga
Tennis
Game
Ticket to Ride
All of them!! But I've been playing chess since I was four...
Hobby
Tennis
Woodworking and gardening
Holiday
Christmas
New Year's Eve
Holiday Song
It's beginning to look a lot like Christmas
Santa Baby
Holiday Tradition
Walking with our neighbor on Christmas Eve night to see the luminaries lit one street over
Baking and exchanging Christmas cookies! My mom is the cookie queen...
Ice Cream
Cookie Dough
Strawberry sour cream
Junk Food
Oatmeal Cream Pies
Ginger molasses cookies
Leisure Activity
Walking through the Botanical Gardens
Spending time with that husbear! (= husband + bear)
Magazine
Local food magazines
The Neurodiagnostic Journal
Memory with a Child
My nephew's first New Year's Even when I babysat him
Going to the college graduations of the chess students I taught when they were 8!
Memory with Spouse
Taking fake posed high school style pictures at a winery
Proposing to him on Christmas morning...lots of happy tears
Movie
Groundhog Day
Ex Machina or Her
Movie Munchie
Milk Duds
Red licorice
Movie Quote
That'll do pig. That'll do
"All you have to decide is what to do with the time that is given to you."
Movie Type
Romantic Comedy
Science fiction or fantasy
Musical Group
Brandi Carlile, Reba McEntire and Ingrid Michaelson
Pick just one?! Ingrid Michaelson and Missy Elliott
Nursery Rhyme
I'm a little teapot
Kookaburra
Olympic Event
Figure Skating
Badminton, those folks are crazy
Personal Hero
My mother for her quiet strength and love for all
My parents...they always try to do the right thing, even when it's the hard thing
Play
Midsummer Night's Dream
Next to Normal
Quality about my Spouse
His sense of humor and silliness
His generosity.
Quote
Life is what happens when you are busy making plans
"Boys who spent their weekends making banana nut muffins did not, as a rule, excel in the art of hand-to-hand combat."
Restaurant
Lidia's Italian Restaurant
Fiddlehead Fern Cafe (half a block away), or Eleven Eleven where we had our first date
Scripture
Love is patient, love is kind. It does not envy, it does not boast, it is not proud. It does not dishonor others, it is not self-seeking, it is not easily angered, it keeps no record of wrongs. Love does not delight in evil but rejoices with the truth.
Genesis 9:12-16
Shopping Store
Crate & Barrel
The farmers' market in our park
Song
"To make you feel my love" by Adele
La Valse d'Amelie
Sport to Play
Tennis
Tennis
Sport to Watch
Baseball
Tennis
Sports Star
Yadier Molina
Serena Williams
Sports Team
St. Louis Cardinals
STL Cardinals!
Subject in School
History
Math and physics
Superhero
Storm
Professor X
Thing to Cook
Stirfry
BBQ chicken, or baking a cake
Tradition
At intermission of a play or musical we get a candy bar and split it (Twix if they have it)
Helping throw our neighborhood's Historic Art Fair every year
TV Show
I Love Lucy
Bob's Burgers
TV Show Character
Leslie Knope
Louise Belcher
Type of Music
Eclectic
Anything I can sing along with
Vacation Spot
Southern California
The Ring of Kerry in Ireland
Video Game
Mario Kart
Classic Mario and Legend of Zelda
Get in Touch
Provide more information, so American Adoptions can connect you with this family.
---