Same Sex Adoption in Arkansas
Six Commonly Asked Questions and Answers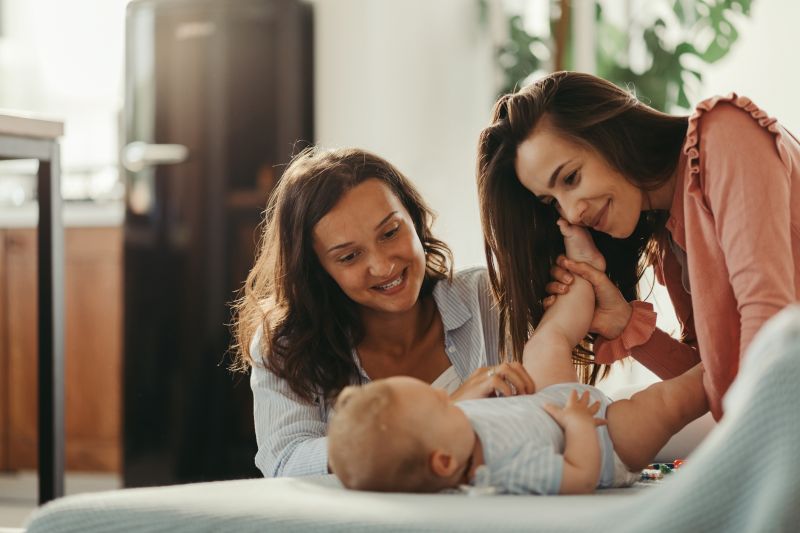 If you are a part of the LGBTQ community and want to build a family, you may have wondered about the process for gay adoption in Arkansas. Though it has recently been made much easier for LGBTQ individuals to adopt, and it is becoming quite prevalent in the U.S., it is not guaranteed that every adoption agency will champion your family-building efforts in the same way.
At American Adoptions of Arkansas, we are proud to call ourselves an LGBT friendly adoption agency. We are honored to have fulfilled the adoption dreams of hundreds of same-sex couples, and we welcome the chance to work with you too.
You deserve to collaborate with adoption professionals who will treat you and your growing family with dignity and respect. Your family deserves the kind of support and acceptance necessary throughout this often-complicated process.
If you're interested in starting your adoption process today, you can call us at 1-800-ADOPTION. In the meantime, here's what you need to know about gay adoption in Arkansas.
How Gay Adoption in Arkansas Works
Gay adoption in Arkansas does not differ from heterosexual adoption in Arkansas, and you can be sure that American Adoptions of Arkansas will provide all the guidance and support that we offer any other prospective adoptive parent. Legally, adoption is available to both married same-sex couples and LGBTQ individuals who are single.
During the adoption process at American Adoptions of Arkansas, you will:
Determine your adoption preferences and decide what kind of adoption you want to pursue.

Fulfill our pre-adoption requirements.

Match with a prospective birth mother.

Meet your child at the hospital and complete placement.

Begin post-placement contact with your child's birth mother.
Common Questions About Arkansas Same-Sex Adoption
It is completely understandable that you would have questions regarding same-sex adoption in Arkansas, as it is a fairly recent change that has granted hopeful LGBTQ parents greater access to adoption.
Are there Arkansas Laws on Gay Adoption?
Today, all same-sex couples can adopt in Arkansas. Whether you want to adopt through foster care or private agency, there are no longer any extraneous requirements for gay couples to fulfill in order to build a family through adoption.
While many agencies require that individuals who adopt together be married, this is no longer the same obstacle it was prior to the Marriage Equality Act being signed into law in 2015. Now that all 50 states recognize same-sex marriages, it has opened up many more options for hopeful LGBTQ adoptive parents.
Can Gay Couples Adopt in Arkansas?
Yes. Same-sex couples can adopt in Arkansas through foster care or private agencies. At American Adoptions of Arkansas, our program, costs, and wait times are the same for LGBTQ couples as for heterosexual couples.
International adoption, while legal for LGBTQ couples in the United States, is more complicated due to the rules and regulations that exist in other countries regarding gay marriage and adoption.
When Was Same-Sex Adoption in Arkansas Legalized?
Adoption became available to LGBTQ couples in Arkansas in 2011 when a measure that prohibited unmarried couples to adopt was overturned.
Currently, same-sex couples have the right to adopt in Arkansas, but there is no explicit language in the law that protects against discrimination in foster care based on sexual orientation or gender identity. Unlike other states, though, Arkansas does not allow state-licensed agencies to deny services to LGBTQ people because it conflicts with their religious beliefs.
Though the law is on your side, partnering with adoption professionals who champion and celebrate you in your journey to build a family is of utmost importance. American Adoptions of Arkansas not only supports your dream of growing your family through adoption, but regularly has birth mothers who request same-sex couples to be matched with.
Was There an Arkansas Gay Adoption Ban?
No, there was never a law that expressly banned gay adoption, but there were some anti-gay adoption laws in Arkansas.
In 2008, voters in Arkansas enacted a ballot measure that prohibited unmarried couples from adopting. Since same-sex couples could not legally be married at the time, this law excluded them from adopting as a couple. In 2011, this measure was overturned, and in 2015 federal law was passed making it legal for same-sex couples to be married, which weakened any such law that was still in existence in our country.
Can You Adopt Your Gay Partner's Child in Arkansas?
Yes, this is a common type of adoption for same-sex couples in Arkansas.
Stepparent adoption is the process of one married partner becoming a legal parent for their spouse's child. Whether the child is a biological or adopted, the process is the same, requiring background checks, noncustodial parent consent (if still involved in child's life), and legal finalization.
Are there LGBTQ-Friendly Adoption Agencies in Arkansas?
As of 2016, there are no laws that prohibit same-sex couples from adopting in Arkansas. This, however, does not mean that every adoption agency is LGBTQ friendly.
To find the right partnership, you can look for agencies that use inclusive language on their website and have a track record of working with LGBTQ couples. It is also advised that you contact an adoption attorney early on in your process in order to be fully informed about your local laws and to ensure you are treated equitably and in accordance with the law.
American Adoptions of Arkansas is proud to provide services to same-sex couples and LGBTQ individuals who want to build their families via adoption. We are a full-service adoption agency that offers benefits that others do not.
Our large, qualified staff provides excellent support and guidance to families who are hoping to adopt. We are also able to decrease wait time for families, which we accomplish by working with numerous prospective birth mothers from around the country.
For more information about how American Adoptions of Arkansas can support you in your adoption journey, contact us today at 1-800-ADOPTION or email adoptions@americanadoptions.com.
Disclaimer
Information available through these links is the sole property of the companies and organizations listed therein. America Adoptions, Inc. provides this information as a courtesy and is in no way responsible for its content or accuracy.