5 Things to Know About Adoption in Arkansas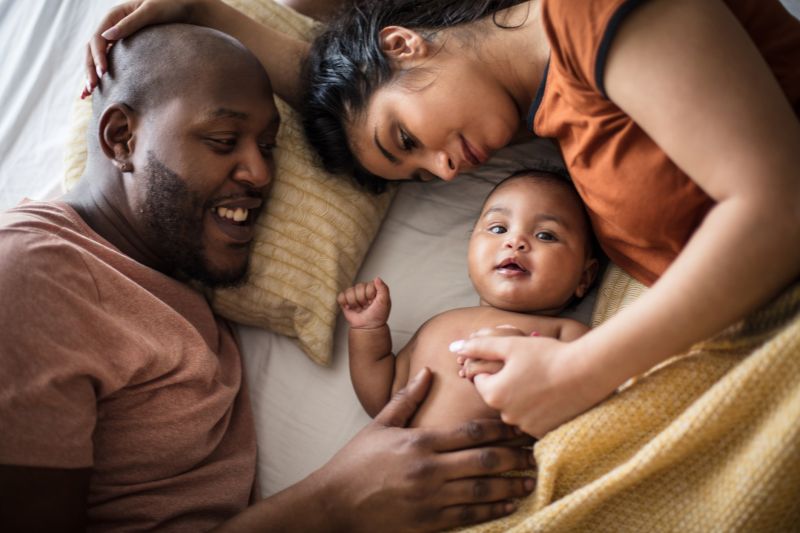 Whether you are a hopeful adoptive family, or a birth mother considering adoption for your baby because adoption is such an important decision you want to make sure you have the best information.
No matter where you are at in the process of adoption in Arkansas, either just beginning your research, or ready to start the adoption process, it's easy to think adoption is overwhelming. With so much information, how do you know who to trust or the best places to go?
American Adoptions is here to help.
With over 25 years of experience as one of the nation's largest domestic infant adoption agencies, we can provide the information and education you need to answer any of your adoption or pregnancy-related questions. We have helped 1000s of adoptive families and birth parents complete their adoptions through our agency. We are here to help you as well.
Below, prospective birth mothers and hopeful adoptive families will find helpful information about adoption in Arkansas. You can always call 1-800-ADOPTION or fill out our online form to get in touch with an adoption professional.
Until then, continuing reading to learn 5 things you need to know about your adoption in Arkansas.
1) What is adoption?
One of the most important things to know about adoption is exactly how it works and the options available to you. In general, there are three basic types of adoption:
This is the most common type of adoption. During a domestic infant adoption, a child born in the United States is placed with an adoptive family from the United States.
As a birth mother, you voluntarily give up your parental rights so that the adoptive family can legally obtain them and take over guardianship of your baby. You are in complete control of the adoption process and will have the ability to choose the adoptive family you feel is best for your baby.
For an Adoptive family, you will begin your adoption process by completing a home study with a licensed professional. This is essentially an evaluation of your readiness to become a parent and includes home visits, background checks, and more. Once your home study has been approved, you can continue the adoption process.
American Adoptions is a full-service, National domestic infant adoption agency. This means we can help you throughout your entire adoption process, no matter if you are a birth mother considering adoption, or a hopeful adoptive family. We provide every service you need to complete a successful adoption.
Because we have the size and scope of a national agency, we provide services and benefits not found at most other Arkansas Adoption agencies, services including:
If you have any questions about domestic infant adoption, the services we provide, or any other adoption or unplanned pregnancy-related questions, you can contact us at 1-800-ADOPTION to get answers and speak with a professional.
The goal of the Arkansas foster care system is to reunite children with the biological families. Unfortunately, this is not always an option and children become eligible for adoption. In most cases, foster care adoption includes older children, children that are part of sibling groups, and children with special needs.
The Arkansas foster care adoption process may vary based on your circumstances and the professional you work with. American Adoptions is a domestic infant adoption agency and we cannot complete or assist with foster care adoptions. This does not mean we value the life-changing opportunity foster care adoption can provide.
We encourage every hopeful adoptive parent to contact a local agency to help them determine if foster care adoption best aligns with their adoptive goals. For more information, you may consider contacting either of the agencies below:
If you are considering adopting a child from a foreign country, you will want to pursue an international adoption. Although there are many additional steps in the international adoption process, the positive outcome of providing a child with a lifetime of love and support remains the same.
As previously mentioned, American Adoptions is a domestic infant adoption agency, so we are unable to complete or assist you with international adoption. We do suggest reaching out to an agency to learn more about the process and to get started, sooner rather than later, as international adoptions generally take much longer than traditional domestic adoption.
Here are a few agencies you may consider when wanting to learn more about international adoption in Arkansas:
If you are a birth mother considering placing your child for adoption in Arkansas, contact 1-800-ADOPTION, or fill out our online form to learn more about your options or to being your adoption journey today.
As an adoptive family, determining what is best for your situation, helps guide you in the right direction on the professionals that can assist you, so you can begin your adoption in Arkansas. There are pros and cons to each type of adoption, but ultimately it will depend on which lines up best with your adoptive goals and the personal connection you feel.
2) Who can Adopt?
As a birth mother considering adoption for your baby, you likely have an interest in the type of people or families that will be eligible to adopt your child. If you are a hopeful adoptive family, you're probably wondering what kind of requirements you have to meet to begin the adoption process.
Although state laws will vary, for domestic adoption in Arkansas the initial requirements include:
A husband and wife or unmarried adult may adopt in Arkansas (some states require couples to be married at least 2 years)
Being any gender or sexual orientation (some states have sexual orientation restrictions)
Renting or owning your home
Not being a felon (depending on nature, some felonies do not prevent you from adoption)
You are approved by an adoption home study
There will be other requirements based on the type of adoption you choose to pursue. For instance, if you pursue foster care adoption, some of the requirements include you must:
Be at least 21 years old
Not have a health condition or disability that would prevent or limit your ability to parent
Have a healthy, safe home with at least 50 square feet of space per occupant in each bedroom
Be able to provide children of opposite sexes with their separate bedrooms if the kids are 4 years old or older
Have sufficient resources to meet a child's needs without relying solely on financial assistance from the government
And more
Because there are many different requirements, some of which are specific to varying situations, it is best to speak with an adoption professional for a better understanding. The adoption laws and requirements are constantly changing, and they will be able to keep you up to date and educated.
For adoptive families, no matter the type of adoption you choose an adoption home study is required to be completed and approved before you can be considered for adoption. You can read more on the home study below.
3) Who can Help with an Adoption in Arkansas?
Now that you know more about the options you have available, who can adopt, and some of the steps along the way, you may be questioning who can help?
For both birth mothers considering adoption, and hopeful adoptive families, the adoption agency you choose will impact the overall experience of your adoption. You will want to choose an agency you can trust and will put your needs first. The services offered by the agency you choose will impact your need for multiple professionals, or if your entire adoption process can be handled in-house.
You will want to read reviews, ask for references or testimonials of previous adoptive families or birth mothers who have used their service, and ultimately build a personal connection with the agency you choose. Do not be afraid to ask questions. The more you know, the better prepared you will be to make a decision. The type of agency you choose to work with will depend upon the type of adoption you are hoping to pursue, but the basic services you will want to look for include:
4) How much does adoption cost?
Birth mothers: If you are a birth mother considering adoption in Arkansas for your baby, you are likely concerned about the medical bills and unexpected costs that pregnancy can bring. Seeing how you will need the services of an agency, an adoption attorney, and more, you may be wondering how much it will cost to pursue adoption.
Adoption does not cost anything for prospective birth mothers. All medical bills, agency fees, and legal representation are covered. In addition to those costs, you may also be eligible for financial assistance which can help cover pregnancy- and adoption-related costs, such as living expenses, bills, and more.
The goal of this assistance is to relieve any financial stress or burden pregnancy may create, and allow you to focus on experiencing a happy and healthy pregnancy. For more information on the type of assistance that you may be eligible for, call 1-800-ADOPTION to speak with a professional.
Adoptive Family: For adoptive families, adoption costs will vary depending upon the type of adoption you choose, as well as the adoption agency you choose to work with. It's important to do your homework when talking to agencies to make sure you are fully aware of what fees and expenses are included so that you are not surprised by unexpected costs.
As a full-service agency, American Adoptions is upfront about our costs. When you factor in all of the services included, and that no outside resources will need to be used or hired, our pricing tends to be lower than smaller agencies, even though initially they appear to be a less expensive option.
This does not even take into account the overall experience and expertise we are able to provide. If you are interested in learning more about the costs of adoption, either with our agency or in general, we encourage you to fill out this online form to get more information.
5) What is the Adoption Home Study?
If you are hoping to complete an adoption from the state of Arkansas, no matter the type, your first step you must complete is an approved home study.
The home study assesses parents' ability to provide a stable home for an adopted child. It will include evaluating your mental health, emotional stability, physical health, financial status, child-caring skills, discipline practices, religious affiliation, and stability, including the stability of the adoptive parents' marriage, if applicable and many other aspects. All members of the adoptive family will be included in the home study, and in most cases, there will be others used as references as well.
The home study will be completed by a social worker or adoption agency licensed in Arkansas and will remain valid for 1 year before placement of an adopted child.
As a licensed Arkansas adoption agency, American adoptions is able to assist you in completing your adoption home study. We will explain each step of the process and ensure you fully understand the requirements of the home study.
If you choose to work with an agency that cannot complete your Arkansas adoption home study, we can help you as well. Fill out this online form to learn more about the home study process and requirements for adoption from the state of Arkansas.
If you are a birth mother considering adoption for your baby or an adoptive family pursuing adoption in Arkansas, we would love to discuss your situation with you. Fill out our online form to get more information about what you need to know about adoption in Arkansas, or to being your adoption process today.
Disclaimer
Information available through these links is the sole property of the companies and organizations listed therein. American Adoptions provides this information as a courtesy and is in no way responsible for its content or accuracy.