What is Adoption in Arkansas?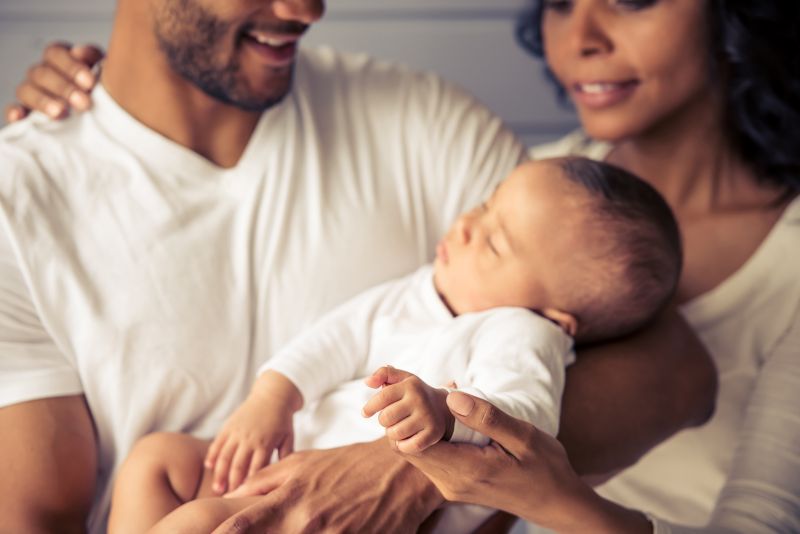 When you're ready to start building your family, you have a lot of options. Some families choose to work with a gestational surrogate, and others choose to pursue IVF treatment. For other couples, adoption is the right choice when it comes to family-building.
In this article, we'll cover the ins and outs of adoption and explain exactly what is adopt in Arkansas.
You can keep reading to learn more or call 1-800-ADOPTION to speak with a team member at American Adoptions today about how you can start the adoption process.
What is Adoption in Arkansas?
One of the first questions hopeful families tend to have is, "What is private adoption in Arkansas?"
Adoption occurs when a birth mom makes the loving decision to place her baby for adoption. A birth mother will choose the family she wants for her baby. Then she will voluntarily sign her adoption paperwork. At that point, the adoptive family will go through the finalization process. After the finalization hearing, they will become the baby's legal parents.
Adoption looks different for each family. As you learn about what is adopted in Arkansas, you'll discover that the adoption experience will vary based on whether you choose open, closed or semi-open adoption. Most modern adoptions are open adoptions, which means that even after you become your baby's legal parents, you'll still have the opportunity to connect with and develop a relationship with their birth parents.
The Adoption Triad: What You Need to Know
O­­ne of the biggest questions facing adoption families is how the adoption triad will interact with each other.
The adoption triad consists of three important parties: the birth mom, the adoptive parents and the adoptee.
When you're researching what is private adoption in Arkansas, you'll likely come across this term at some point.
Adoption impacts each member of the triad in different ways.
The birth mom makes the difficult decision to place her baby for adoption. Birth moms will have the opportunity to choose the best family possible for their babies. When birth mothers work with a national adoption agency, such as American Adoptions, they can choose from families anywhere in the United States. Some birth moms want to choose a family that lives on a farm, while others prefer the idea of their child being raised in the city. Each birth mom is unique, which means the family she chooses will also be unique. After placement, she can develop a deeper bond with the adoptive family and her child through open or semi-open adoption.
The adoptive parents become the baby's legal parents after the adoption process is complete. They are responsible for providing a safe and loving home for their new baby. Adoptive parents who choose open adoption are responsible for keeping in touch with their baby's birth family. Birth moms want to know they've made the right choice in choosing adoption. Adoptive families can help them with this by writing letters, making phone calls and connecting both in-person and online.
The adoptee is the final member of the adoption triad. Adoptees who experience open adoptions can establish a deep, meaningful relationship with their biological family. Most modern adoptions are open, primarily because this type of post-adoption relationship tends to be best for the adoptee's well-being. When a child grows up knowing they are adopted and can ask questions about the process, they are generally more satisfied with their adoption experience.
Choosing Adoption: Finding the Right Agency
As you research what is private adoption in Arkansas, you'll probably start to notice that you have more questions than answers.
That's okay!
This is just one of the reasons that it's so important to choose to work with a private domestic adoption agency on your adoption journey.
When you choose to work with an adoption agency, you'll receive personalized, custom care throughout your adoption.
Your adoption specialist will talk with you regularly to answer questions such as:
How long does the adoption process take?
How can I prepare my family for adoption?
What are the steps of the adoption process?
What is the home study in Arkansas like?
How can I make sure I pass my home study the first time around?
And more
Keep in mind that the sooner you reach out to an adoption agency to support you, the sooner you can begin the adoption process and welcome your new baby home.
Starting Your Adoption Journey
Are you ready to begin your adoption process?
There's no need to wait.
If you're ready to start the process of adopting a baby, you can begin today. All you need to do is call 1-800-ADOPTION to speak with an adoption specialist who will help you.
Our team is available to answer your question and help you start the adoption process in Arkansas.
We've helped create more than 13,000 families, and we'd love the chance to help you create yours.
Disclaimer
Information available through these links is the sole property of the companies and organizations listed therein. American Adoptions provides this information as a courtesy and is in no way responsible for its content or accuracy.